A very important topic was covered last week here at Matrimonial Monday.  It was linked up by my dear friend Melinda over at Auntie Em's Guide to Life. 
She and I are such kindred spirits.  We clicked right away when we 'met' through blogging.  She's been going though some tough times with her husband's accident.  I had a sibling survive the same type of accident.  We both have backgrounds in teaching, feel strongly about marriage, and love the Lord! 
Let's walk through a scenario.  Have you ever made a purchase that you've regretted?  Maybe you spent too much on it.  Perhaps you are on a tight budget and should be watching every penny.  Maybe you have 6 pairs of jeans and really don't need another pair. 
Do you go home and tell your spouse about that particular purchase?  Or do you sneak it in the house and hope he doesn't notice?
I'm a firm believer that there shouldn't be any kind of lying in a relationship.  This doesn't only apply to a marriage but also any other kind of relationship. 
I don't want to reiterate what Melinda posted about because she does it so well already. 
If you didn't get a chance to read her Armor Up Your Marriage post, please do. 
I encourage you to read it with your spouse and talk.  Yes, talk!   Discuss with your spouse how important it is to be honest and truthful. 
Do you have your own take on this?   Write a post for this week's Matrimonial Monday and tell us your thoughts!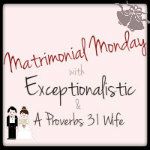 If you enjoyed this post, say thanks by sharing it!