I really enjoy this part of our weekly link up.  It's great to get a chance to see what you have to say.  I learn a lot and with so many newly linked up blogs each week, I get to make some new friends.
Kendra and I are so happy that so many of you are linking up.  Each week we try to read through each post that is linked up.  There are times when there are 40+ linked up.  I'm not sure if you are aware but that is a TON of reading.
This is where you come in.  Please take a moment after you link up to stop by the blog of the person linked up before you.   Show them that someone is reading their words of wisdom.  Leave them some comment love!  
The great part about this is that when someone links up after you do, you'll also receive a new visitor and a new comment.  It only takes a minute.  We'd love for this to be a community of ladies (and men) that support each other in keeping their marriage strong.
So, that's my public service announcement for today!  On to the program.
**********************
For me this week, Jaimie over at Living in the Light rocked it out with her post about being her husband's biggest fan.  She lists several ways to make this known to him.
One of my favorites that she listed is not making comments about other men.  She is absolutely right!
Now, I'm somewhat guilty of this.  I don't comment on other men but my husband knows about my crush on Shemar Moore and many of you do too.  It's a running joke in our household and has been for years.  We are comfortable in our marriage to know that nothing would ever happen and to tease each other about it.  (To be fair, I also know about his crush on Salma Hayek!) 
This is completely different than making a comment about a random man at the park.  Or worse, a man that we both know then saying something.  It could destroy him.  It could make him feel self conscious. 
Check out her other tips over on her post My Husband's Biggest Fan. 
**********************
So, talk about an intense and powerful conversation with your man.
Be sure to check out 10 Questions to Ask Your Husband.  It was linked up by Sherry over at Intentionally Yours.
Number 3 and number 9 are two that I believe can change a marriage and start it in the right direction! 
Check them out and leave her some comments about how encouraging her post was this week.
********************
Grab a button and link up today!  If you were featured, grab the featured button and bragging rights.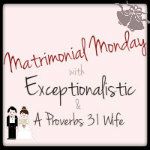 If you enjoyed this post, say thanks by sharing it!