Hmmm…where to begin.  It all began last week, four days ago to be exact.  It was a complete spur of the moment decision. During my blog travels to find some new blogger friends I stumbled onto a blog named Finding Hope. YES, YES, YES!!  I immediately connected with the author. We seemed to have a lot in common.  Would this truly be where I found my hope?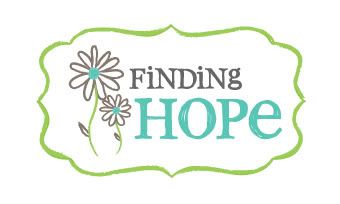 Things have been crazy here lately. Companies closing down, other companies on the downturn, my husband going back to school full time, wilder than normal kids and no time for really anything other than the day to day.  I felt as if I was drowning. It's up to me to keep this family running during this next year and I'm feeling more than overwhelmed (can we say triple overwhelmed?!) about what I need to do. I wanted to do something I wanted to do instead off always what I must do. Not necessarily in a selfish way but I needed some quiet time alone with Him. I've known for a while. This is my chance to rekindle.
The most current post on this blog was about an upcoming bible study about the Proverbs 31 woman through Good Morning Girls. A woman I so desperately would love to be but is it at all possible? I decided in all of about 15 seconds that I was going to do this. I email the author of the blog to join the group.  A three month, five day a week study about this 'perfect' woman.  Two to three verses per day – how hard can that be? I can surely find 5-10 minutes of quiet time to myself to study and meditate on these verses so I can be an integral part of this group.
I'm all set…printed my study guide, printed the e-book, joined the Facebook discussion group.  I am ready to go.

Day one. Monday May 14th. I struggled with finding my quiet time. I really wanted to get up early so I could grab an iced coffee and enjoy this quiet time. I set my alarm and of course the children that never get up early get up 10 minutes before my alarm is due to go off. Failure. Fast forward through the day. I find my 15 minutes at the very end of the day. 11:45pm. I'm wondering what I've gotten myself into. Was this a mistake? Was this not the right time? Everyone else in the group seems so put together. Great…now I'm intimidated but determined.
Day two. Same story. I'm now wondering if day three will pick up. I'll be sure to let you know!