Today I'm a salad socialista.  What does that mean? It means I've joined in on the Salad Social this week.  What a great idea for summer.  Salad lovers unite!
Come join The Salad Social at TidyMom sponsored by The International Olive Council's Add Some Life.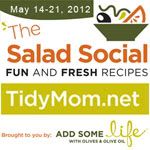 This is one of my favorite summer lunches. It's easy to make, easy to pack to go and kids love it!
Chicken Waldorf Salad
Ingredients:
4oz of shredded chicken
1/2 cup of finely chopped walnuts
1/2 cup red seedless grapes, sliced
1 sweet apple (cored and chopped)
3Tbsp mayonnaise (Kroger brand is my personal fave)
1Tbsp fresh lemon juice
Few dashes of celery seed (or 1/2 cup of thinly sliced celery if preferred)
Lettuce (optional)
Method:
Combine chicken, apples, grapes and walnuts in large bowl, shake to mix. Add lemon juice and celery seed.  Add mayonnaise and mix.  Serve over lettuce or enjoy as-is!!  Serves 1-2.
Core/slice apple, add lemon juice to apple (keeps from turning brown)
Slice grapes
Grapes/apples sliced
Add apples, grapes and chicken
Mix, add celery (or celery seed as shown)
Add mayo & mix, chill until served (serve on bed of lettuce if desired).