Sara over at The Hickman Five invited me to a talk on fear.   She knows my heart and how much I'm working on growing closer to Him.  What a great friend!
I'll start by saying that I wasn't originally going to go. I didn't really feel compelled to go. I've been following my spirit a lot more lately.  If I feel it then I do it.  I'm listening to Him as much as I can. In this instance I read the email from Sara but it didn't hit me in my spirit.  I kept her email and said I'd let her know.  One thing I know is just because I decided I wasn't going didn't mean that was the final say.
It was three days before the seminar.  I remember it like it was yesterday.  Some things occurred in my life which made me feel down.  I was bummed that all the hard work I'd been doing, putting my heart into was coming to an end.  I feel relationships have been strained and my stress level is through the roof.  Clearing out my email I came across the email from Sara.  I went to click delete.  I couldn't do it.
I continued on deleting old emails and filing some for later.  Again, there was the email with the subject 'Hi – July 14th – Fear' staring back at me.  I couldn't click to open it yet I couldn't delete it either.  I took it as a sign that I was meant to be there.
Bryn from Restoring Lives International shared her story. It was inspiring, emotional and real.  I'll not share her story but I'll share mine.
A few things she shared were astounding.  So near to me I almost felt ill.  Things I didn't even really realize were holding me in fear I started to recognize in what she was sharing.  She asked if we were stuck in a cycle.  A cycle of fear.
The answer was yes.  A hamster wheel of fear. I was on and I couldn't get off.  Fear of the past, fear of the future.  Fear of letting other people down.  Fear of not being a good enough wife, mom or friend.  Fear, fear, fear.  It was as if I finally realized what was holding me back in that very instant.  Something I'd been burying deep inside me from when I was five.  The root of my fear was there.

She said one thing that hit me like a ton of bricks.
~Jesus defeated fear on the cross~ 
It's so true!  He did.  We aren't meant to live in fear.  We are to cast all the fear away.  When we allow fear to stay in our lives we aren't trusting Him fully.  It's time to shut the door on fear.
I stayed to pray with one of her prayer warriors afterward.  It was amazing. She really got to the root of where my fear was coming from.  I let it go that day. It felt like a gust of wind came and took it away.  There was no wind but the feeling was swift and calm yet powerful.
Is there fear in your life? Embarrassment? Control? Anxiety? Nervousness?
All of these fancy words for fear can hold us back from accomplishing our dreams and living our best life.
Remember Jesus defeated fear on the cross. It has no place in our lives.
I'll leave you with some verses she shared with us.
Ephesians 2:14
Isaiah 26:3
2 Timothy 1:7
Job 4:12-16
Hebrews 11:1
–Join my co-hostesses and I this week for Into The Word Wednesday!
Becky at Tales of Beauty for Ashes
Sarah at Fontenot Four
Kelly at The Houtz House Party
Falen at Upward Not Inward
Kelly at Exceptionalistic (looks like you found me!)
Into the Word Wednesday blog hop rules (if you wouldn't mind!):
1. Link up about something you are learning this week.
2. Follow all hostesses via GFC or Google +.
3. Grab a button to put on your blog – the more the merrier! Check out our sweet new button…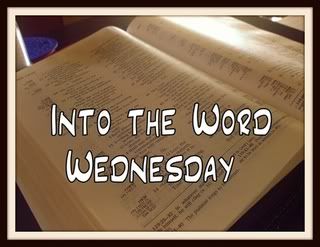 4. Check out (and comment) other people's blogs to bless them today!
If you enjoyed this post, say thanks by sharing it!
7 Responses to "Defeated fear {Into the Word Wednesday}"