What am I learning in the Word this week?  That is a loaded question.
I'm still studying Proverbs 31.  In the midst of week nine of the study and reading a book along with it.  Starting another bible study here shortly.
Outside of that I'm leaning heavily on a few verses this week.
Psalm 55:22  Cast your burden upon the Lord, and He will sustain thee: He will never allow the righteous to be shaken.
Matthew 19:26  And Jesus looking upon them said to them, with men this is impossible; but with God all things are possible.
Isaiah 41:10  Fear you not; for I am with you: be not dismayed; for I am your God: I will strengthen you; yes, I will help you; yes, I will uphold you with the right hand of my righteousness.
I wrote yesterday about the struggle as well as a few possibilities that are happening in my life right now.  I was picked up yesterday at the thought of a solution.  Today, however was a different story.  I was snapped back to reality pretty quickly.  The gravity of the situation at hand was more than I could bear.  I gave in to the worry.  The battle in my mind was raging.
So for now….I am choosing to believe.  I am choosing to have faith.
I'm standing gingerly on these verses this week, praying for His guidance.
It's a short one for me this Wednesday because my mind is swimming!  I'm trying not to dwell on it too much so I'm going to keep it short and sweet for this week.
–Join my co-hostesses and I this week for Into The Word Wednesday!
Becky at Tales of Beauty for Ashes
Sarah at Fontenot Four
Kelly at The Houtz House Party
Falen at Upward Not Inward
Kelly at Exceptionalistic (looks like you found me!)
Into the Word Wednesday blog hop rules (if you wouldn't mind!):
1. Link up about something you are learning this week.
2. Follow all hostesses via GFC or Google +.
3. Grab a button to put on your blog – the more the merrier! Check out our sweet new button…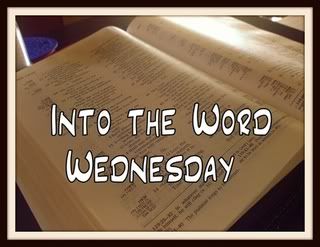 4. Check out (and comment) other people's blogs to bless them today!
If you enjoyed this post, say thanks by sharing it!
5 Responses to "Into the Word Wednesday {For I Am With You}"