I love when the Lord speaks to us in unexpected ways.  Today was one of those days.
The kids and I were headed out to grab a quick lunch with my mom earlier this week.  As we got in the car the rain started to drizzle.  As we left the driveway the sky turned dark.  There was an unknown car parked on the street across from our house.  I had seen it last week in the driveway of a neighbor but didn't think much about it.  We continued on about our way.
The rain was coming down in buckets, thunder crashing.  We thought twice about heading to the restaurant less than 4 miles from our home.  We turned back.  The rain continued, not planning to stop any time soon.
As we drove back to our house we saw the car again.  The window was open.  Rain pouring inside the car.  All I could think of is what an awful mess it would be to clean up.  Scouring the garage to find something, anything to cover this window my oldest was trying to help.
He's 5 going on 12.  So inquisitive.  The entire time he was asking why I was covering up the window.  I explained to him that sometimes we do things to help others.  I knew the neighbors were at work and didn't know how long the storm would last.  I explained that this small thing would take 10 minutes and a change of clothes for me to help.  The damage to that car sitting in the rain for an entire day would take much more time for the neighbor.
We found a large lawn trash bag.  The big one watched the little one in the safety of the garage as I ran down the driveway.  I didn't take an umbrella because it would really have been of no use.
I opened the door, covered the window as best I could just trying to keep the water from rushing in.  After changing and drying off, I started getting lunch ready.
My oldest turned to me and said 'Mommy, that was a really nice thing you did for those people.'  Wow. I was floored.  I don't know why.  I guess I didn't expect him to think much more about it but he did.  The wheels had been turning.
I began thinking about how much children watch our actions rather than our words and what the bible says about this. You can hover over the verse to see more.
Proverbs 22:6
James 3:13
1 John 3:17-18
Colossians 3:23
Is there a time recently that your children watched your actions and reacted to it?  I'd love to hear about it!
–Join my co-hostesses and I this week for Into The Word Wednesday!
Becky at Tales of Beauty for Ashes
Sarah at Fontenot Four
Kelly at The Houtz House Party
Falen at Upward Not Inward
Kelly at Exceptionalistic (looks like you found me!)
Into the Word Wednesday blog hop rules (if you wouldn't mind!):
1. Link up about something you are learning this week.
2. Follow all hostesses via GFC or Google +.
3. Grab a button to put on your blog – the more the merrier! Check out our sweet new button…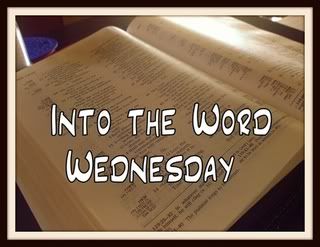 Check out (and comment) other people's blogs to bless them today!
If you enjoyed this post, say thanks by sharing it!
14 Responses to "Unexpected lesson {Into the Word Wednesday}"