If you are reading this you might already know that God is great.  I wanted to share some reasons why today. 
I talked a little about what's going on in my life here and here.  What I'm ready to mention now is how God's plan is coming together.  It's amazing.  I knew He was here.  Meanwhile, I didn't just sit around waiting for a miracle.  I networked and contacted anyone I knew to find some work which is way out of my comfort zone!

I talked some about one of my biggest dreams in this post.  I am starting to think there might be light at the end of that tunnel. 
In the past week I reached out to an old friend that coordinates elder care and cleanings.  She had an immediate urgent need for a home organizer for a client.  I also received a referral for overnight newborn care from a prior client of mine.  I've started both of these jobs already! 
Several months ago I mentioned casually to our family photographer how much I'd love to help her out sometime if she ever needs it.  She already knew how much I'm into photography. We only see her a few times a year for family photos so I can actually be in the pictures.  I'm happy to report I have an official sit-down with her next week to see how I can help her business grow.  Ummm…am I excited about His plan?  You bet! 
He was already working through people I knew.  I had to stepped out of my comfort zone to talk with these people but the seeds were already there. 
I have been actively casting my cares upon Him over the past few months standing in His truth from this verse.  It has already paid off in a huge way. 
How has God shown up in your life lately?  I'd love to hear your story!
*****************************
–Join my co-hostesses and I this week for Into The Word Wednesday!
Becky at Tales of Beauty for Ashes
Sarah at Fontenot Four
Kelly at The Houtz House Party
Falen at Upward Not Inward
Kelly at Exceptionalistic (looks like you found me!)
Into the Word Wednesday blog hop rules (if you wouldn't mind!):
1. Link up about something you are learning this week.
2. Follow all hostesses via GFC or Google +.
3. Grab a button to put on your blog – the more the merrier! Check out our sweet new button…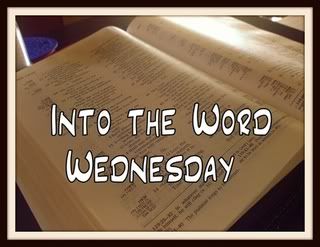 4. Check out (and comment) other people's blogs to bless them today!
If you enjoyed this post, say thanks by sharing it!
3 Responses to "God is great!!! {Into the Word Wednesday}"