Well, this week was a tough one.  I didn't feel particularly moved to share anything.  I have been praying that something would come and nothing.  Sure I could choose a verse and share about it but I want to be real on this blog.   More real than I've ever been. Even if no one ever reads these words it's coming from my heart and is therapeutic for me!
As I was thinking and praying, praying and thinking it hit me. 
The neglected four letter word.  It may be different for you but for me that word is rest.  We don't always have to be full on going, going, going.  This is very hard for me. I rarely rest and relax. It's just not in me to sit. 
I'm always working toward accomplishment.  It doesn't matter what that might be.  Cleaning the toilet, the mirror or the sink while I'm in there just because it's one less thing to do later.  Getting the kids dressed for bed while simultaneously pulling out clothes that no longer fit.  If the kids are in bed and we are watching a movie, I am probably organizing paperwork or folding laundry.  It's a never-ending cycle.  I keep waiting for that bell to ding signaling the end of it.  You know, similar to the washer that dings to alert that it's time to switch it over.   It never seems to end. 
Then this week I read this:
In the Easy-To-Read version of the bible it translates as this:  'It is a waste of time for you to get up early and stay up late trying to make a living. The Lord provides for those He loves even while they are sleeping.' 
What a relief!!!  I am allowed to take a rest. I am allowed to relax.  Something my husband begs me to do on a regular basis.  Now there are definitely seasons that require more work and less sleep than others.  This isn't permission to sit and pray that God will do all the work.  He can see our hard work.
I feel accomplished if I've completed a dozen tasks during the day.  However, at the end of the day I feel as though I've missed it.  Have I enjoyed myself? Nope.  I've worked so hard I've forgotten to live and enjoy.  I'm too busy to take the time to do something for me.  Here's how we'll remedy that.  Find 20 minutes in your day whether it's during nap time, before the crowd wakes up or after they are in bed.  Can you do that?
Listen up moms. I know you are out there working hard.  Okay hard isn't good enough. I'm guessing you are working your fingers to the bone.  I am begging and pleading with you.  Please take 20 minutes today for you.  I don't think you heard me…you sitting at your computer browsing Facebook or Pinterest.  Take 20 minutes.  What would you do?
Here are some ideas!
Read a book (not a kids book)

Listen to your iPod while doing NOTHING else

Sit on the porch with a cup of coffee or tea

Take a bath (what?!?)

Paint your toenails

Give yourself a facial

Browse a catalog, circle what you like (Christmas is coming!)

Make yourself a meal and eat it in peace

Exercise
How will you spend your 20 minutes?  Please leave a comment and I'll add the ideas to this list!
********************************
–Join my co-hostesses and I this week for Into The Word Wednesday!
Becky at Tales of Beauty for Ashes
Sarah at Fontenot Four
Kelly at The Houtz House Party
Falen at Upward Not Inward
Kelly at Exceptionalistic (looks like you found me!)
Into the Word Wednesday blog hop rules (if you wouldn't mind!):
1. Link up about something you are learning this week.
2. Follow all hostesses via GFC or Google +.
3. Grab a button to put on your blog – the more the merrier! Check out our sweet new button…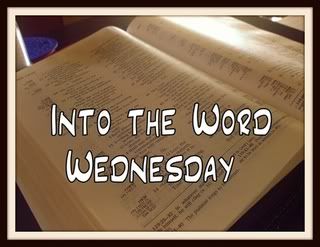 4. Check out (and comment) other people's blogs to bless them today!