I really enjoyed reading through the posts this week.  So many of you have amazing thoughts on marriage.  It makes me think we should all write a book together!
I believe every husband and wife man and woman should read Lori's post at Be Not Weary.  She explains lust.  She defines in a way that none of us usually thins of but it's so very true. 
Jamie at Loving When It Hurts wowed me.  There is no wonder that her powerful post about infidelity and healing her marriage was one of the most read last week.  Did anyone else tear up reading this:  'My 9 year old would periodically ask me "Did you find your relationship with God yet?"'
My personal favorite and the other most clicked was by Melinda over at Auntie Em's Guide.  She wrote about how her husband wasn't always her best friend.  She suggests that we make friendship with our husbands this week our top priority.  Yes, it should definitely be!!
Thank you all for linking up for week 3 of our Matrimonial Monday link up.  So many of the posts were amazing!!  There were many others that were feature-worthy but there was no Matrimonial Monday button in the post. 
Remember next week to pull a button from below in case Kendra over at A Proverbs 31 Wife decides she'd like to feature you!!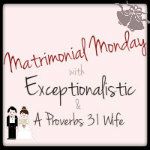 Jamie, Melinda and Lori, you three can go ahead and grab an 'I was featured' button below to feature on your blog!!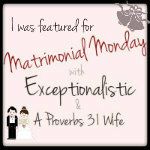 If you enjoyed this post, say thanks by sharing it!
One Response to "Features from Week 2 {Matrimonial Monday}"