I don't want to keep you waiting!!  Here is the amazing basket of goodies that are up for grabs for one blessed winner!!  I can't wait to read the marriage posts that are linked up & choose my favorites.
One thing I love about this particular link-up is that I don't think we're ever done growing.  We can always benefit from hearing another point of view.  After almost 12 years of marriage I can say that I'm still learning!  I hope to bring some insight into how we've made it this far as well as pick up pointers from those of you that have been married much longer!
I'll share one with you right now (so you can get on with entering to win)!   Compromise, compromise, compromise!  I know you've probably heard it before but from my perspective I'm the one that has to do a lot of it.  I like things 'my' way.  I like to be in control of the situation and being on the wife-end of the relationship that is not always possible!  I must say that it's been refreshing not always being the one that handles a situation. It's a nice break knowing that someone I trust is taking care of things (even though it might not be the way I would handle it). 
Have you had to compromise in your marriage?  How did you handle it?

*********************************************
The Nurture My Marriage giveaway prizes.
Eeek! I wish I could win some of this loot!
Enter via the raffle-copter below. The first six entries are mandatory, if you do not complete all six, you will not be qualified. Enter as many ways as you like and good luck!
Don't forget to link up your marriage post below as well!
a Rafflecopter giveaway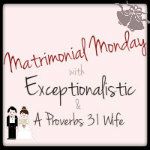 If you enjoyed this post, say thanks by sharing it!
2 Responses to "Matrimonial Monday's Nurture My Marriage Giveaway & Linkup"