First of all I want to say how amazing all of you are!  I am still flabbergasted by the amazing turn out for the first week of Matrimonial Monday.  Kendra at A Proverbs 31 Wife did an amazing job organizing the giveaway.  I can't wait to find out who won! 
I was truly inspired by all of the posts that were linked up.  Over the past 11+ years, there have been six divorces within my circle of family and friends.  I remember being shocked when the first one occurred.  This last one didn't seem to faze me much.  Two couples that were in our wedding party (and us in theirs) are no longer together.  The surprising fact is that they are all remarried.  Quick to quit on one relationship, yet jump into a new one. 
It seems as though people just quit on a whim.  Now, that may not be entirely true but it seems so as an outsider looking in.  Immediately following the news of the second couple splitting up we made a conscious effort to work on our own marriage harder than ever before.  We didn't have any issues but didn't want any. 
Could it be that we get so comfortable in our marriage that we stop expressing our gratitude and love toward our spouse?
I believe many times this can be the case.  A marriage can be revived at any time. We revived our marriage before it needed it and continue to do so to this day.  We saw marriages falling apart and made a decision to work harder than ever before to ensure it didn't happen to us. 
It was so encouraging to see so many posts linked up last week.  It's refreshing to know that there are others working hard on their marriages as well. 
What are you going to do to revive your marriage this week?
Grab a button & link up! I can't wait to hear what you have to say this week.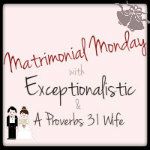 If you enjoyed this post, say thanks by sharing it!
4 Responses to "Revived Love {Matrimonial Monday}"