Are there any daily reminders in your life that help you remember to work on your marriage?  Is there a song you hear or a bible verse you read that reminds you? 
From the moment we moved into our first apartment we hung our marriage certificate in our bedroom.  It's framed and beautiful.  Here's a close-up!
It's amazing because it's lettered in gold leaf (the M, L, and squiggly lines).  It's fancy to say the least.  I chose to change it to black and white because I imagine this may be what it will look like in another 50 years or so. Faded but still important.
It's a daily reminder to work on us.  It's more than just a piece of paper.  It's a signed, legal document. Do you still have your marriage license?  Do you know where it is?
In all of the chaos of life, every time I walk past this framed document, it reminds me of the vows I made.  For better or worse, for richer or poorer, in sickness and in health.  I think of my grandparents who were married until they passed, my parents who are still married, and my kids for whom I want to set an example when I see this.
I suggest if you do still have it, why not pull it out?  Find a nice frame and display it.  Be proud of it!  Surprise your spouse with it.  If you don't have one, create one.  Wrap it up, light some candles, and renew your vows.  Just you and your sweetheart! 
************************
Grab a button & link up with us!
.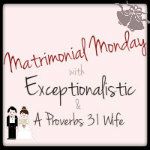 .



If you enjoyed this post, say thanks by sharing it!
3 Responses to "Daily reminders. {Matrimonial Monday}"