Welcome back for week 5 of Matrimonial Monday.  I have enjoyed getting to know each of you through your posts.  It's so important to stay surrounded by friends that encourage!  Thank you, friends.  I've been doing my best to comment on each post.  Please know that if you do not see a comment from me, that doesn't mean that I didn't swing by your spot on the web. I've read each and every Matrimonial Monday post.
Let's get to it!
————————————
The first blog I want to highlight is The T2 Women.  The post that was linked up is called Building Up Your Home.  I related with each and every 'do you remember' question that was listed.  I could add a few more to that list.  I'm keeping 1 Peter 3:2 close to my heart as I work to be sure I'm showing my hubs that he means everything to me.  I feel as though I love him more now than ever.  I am being intentional now in showing him.
———————————–
Rekindling An Old Flame from Teshuva weighed on my heart this week.  I read it last week, went through the rest of the posts, and still came back to this one.  I feel strongly that someone may be in this type of situation right now.  Rekindling an old flame?  Walking the fine line of temptation?  If this is you, please read this post. I believe it will truly guide you in the right direction.
———————————–
-Gail over at 1 Minute Bible Love Notes had the most clicked post from last week.  If you haven't hopped over there to read what she has to say about being your husband's girlfriend, you may want to!  A few of her tips include finding mutual interests, laughing together, and being polite to each other.  These are so true.  These are all things we did when we were dating.  It definitely shouldn't stop once the vows have been exchanged!
************************************************************************
If you have been featured above please grab this button!
You can link it to this post if you'd like so readers can see just how amazing you are!
.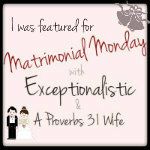 .
If you are new or joining us again this week. Use this button in your post so Kendra can consider featuring you for next week!
.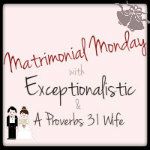 If you enjoyed this post, say thanks by sharing it!
2 Responses to "Features From Week 4. {Matrimonial Monday}"