This week's style is a little different.  Becky from Tales of Beauty for Ashes and I are sharing some highlights of our favorite posts from the past few weeks.  We've been so inspired by you that we wanted to say thank you!
——————————————————–
The first post I want to share with you is by Joanna over at Jo Finds Joy.  Her post is short, sweet, and to the point.  I completely love that.  It's about a topic I've posted about before too.  She highlights a verse that I stand on almost daily.  Joanna,  I can totally identify with your post.  It's absolutely true.  We must go to Him.  We must rest.  
(I'm not at all trying to highlight this but just in case you are like me and can't stand when someone mentions another post, the one I'm referring to is here.)
——————————————————–
Another post I want to share is from Crystal over at Serving Joyfully.  She posted this for Into the Word Wednesday back on September 11th.  It has stuck with me all this time. 
Like Crystal, I am a new blogger.  I haven't been around the seven circles of blogdom (are there 7?) therefore I don't know everyone.  I don't know all the rules.  I don't yet have a following like some of you.  I have at times felt as though everyone knows everyone else!  Everyone supports everyone else.  I see sponsorship ads on all the blogs I read from other blogs I read.  Oh, how I wish I had the money to put my button all over the place.  I see comments galore on other posts while perhaps seeing one or two on mine.  Even though I write to the beat of my own drum, for some reason I wanted to be 'wanted.' 
I love when Crystal said 'sometimes the things we find offensive or hurtful aren't meant to be so because sometimes there are motivations for someone's actions or inactions that have absolutely nothing to do with me.' 
This is SO true.  Since I read her post, I'm being the best 'me' I can be.  I comment when I feel led to do so for others.  I'm okay if weeks go by with no comments and no new followers.  Thank you Crystal for sharing this!!

********************************************
–Join my co-hostesses and I this week for Into The Word Wednesday!
Becky at Tales of Beauty for Ashes
Sarah at Fontenot Four
Kelly at The Houtz House Party
Falen at Upward Not Inward
Kelly at Exceptionalistic (looks like you found me!)
Into the Word Wednesday blog hop rules (if you wouldn't mind!):
1. Link up about something you are learning this week.
2. Follow all hostesses via GFC or Google +.
3. Grab a button to put on your blog – the more the merrier! Check out our sweet new button…
.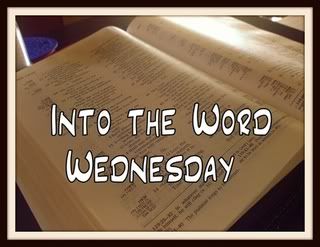 .
4. Check out (and comment) other people's blogs to bless them today!
.

If you enjoyed this post, say thanks by sharing it!
8 Responses to "Inspired by… {Into the Word Wednesday}"