One of our favorite movies is Titanic.  The year it came out we saw it at the theater 9 times.  No, that isn't a misprint.  We went to the theater, paid for it, and watched it 9 times.  Ten times if you count seeing it a few months ago in 3D!   
I love the scene when Jack slips a note to Rose that reads 'make it count.'  Each time I see it, this scene is a reminder to me.  What am I doing today to make it count?
Let's be honest, none of us gets as much alone time with our spouse as we did prior to becoming parents. 
We try to have a date night out of the house once a month at least.  The date night this month was totally spur of the moment when we received an amazing gift from some friends. Here's a pic!  Tickets to a postseason game.  The first we've ever been to!

We also have a 'home' date night several times a week.  Usually this consists of watching a movie or working out together after the kids are in bed.
For us, just being in the same room feels like a date.  We enjoy hanging out with each other.  Even when I just need to get a few things done, hubs wants me to be in the same room.  He'll carry my computer downstairs for me so I'm all set up to work while we watch tv. 
We enjoy working on projects together around the house too.  We once revamped our entire basement after our sump pump went out.  In three weeks we cleaned it up.  We also painted every wall, trim, and door then had new carpet installed.  Why three weeks?  To host Thanksgiving.  We decided it would kick us in gear to get it done.  Boy, did it.  We spent every night from 9pm until 2am working on it.  Can you say exhaustion? 
How do you make it count?
*********************
Grab a button and share your experience with us!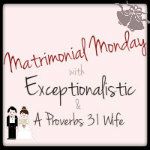 If you enjoyed this post, say thanks by sharing it!
10 Responses to "Making It Count. {Matrimonial Monday}"