I know. You may be here because of the title of this post.  If you have already read this post, you know that I have been through at least two miscarriages.  It is the most excruciating emotional pain I've ever been through.
What could this possibly mean?  How could Miscarriage + Jesus = Joy?
Trust me. I have been where you are right now.  Are you wondering how I got to this point in my grief?
I want to share more details about my sweet babies but I'll save that for another day.
I will tell you this. I'll never get over it but I am at peace knowing that my sweet babies are with Jesus.  My heart leaps with joy knowing that they are being cared for in heaven.
Once I read Jeremiah 1:5 and Luke 18:16, I was still hurting of course, but I learned my angel babies would be okay.
Jeremiah 1:5
'Before I formed you in the womb I knew you,before you were born I set you apart;I appointed you as a prophet to the nations.'
Luke 18:16
But Jesus called the children to him and said 'Let the little children come to me, and do not hinder them, for the kingdom of God belongs to such as these. 
I love knowing that one day I'll meet them!!  I love knowing that they are in heaven surrounded by love.
If you have been through a miscarriage, please know that Jesus is taking care of your babies. Who knows maybe they are all up in heaven playing together!  Therefore, even though a miscarriage is painful, I have joy in my heart knowing they are with Jesus!
********************************************
–Join my co-hostesses and I this week for Into The Word Wednesday!
Becky at Tales of Beauty for Ashes
Sarah at Fontenot Four
Kelly at The Houtz House Party
Falen at Upward Not Inward
Kelly at Exceptionalistic (looks like you found me!)
Into the Word Wednesday blog hop rules (if you wouldn't mind!):
1. Link up about something you are learning this week.
2. Follow all hostesses via GFC or Google +.
3. Grab a button to put on your blog – the more the merrier! Check out our sweet new button…
.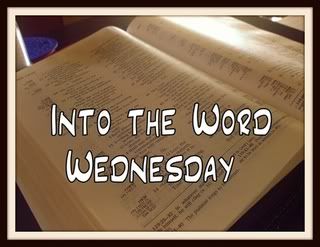 .
4. Check out (and comment) other people's blogs to bless them today!
.