Have you ever felt joy and sorrow at the same time?
Have you been so joyous about a situation that reminds you of a sorrowful time in your life?
I've been preparing myself for this moment. I knew the grief would probably be rough but didn't expect it to hit me like a ton of bricks like it did today.
One of my closest friends had a baby today.  I've been waiting her entire pregnancy to find out whether she'd have a girl or a boy.  I was so thrilled to find out she was pregnant.  You see, she was my rock through both of my miscarriages.  She was the only person I knew that had been through it.  We were more acquaintances at the time but we became close talking and sharing about our sweet angel babies. 
I am so thrilled.  If she lived closer I'd have been there today. 
Exactly seven days after my first miscarriage, I had a baby shower to attend. 
I went.  I smiled through the excitement.  I oohed and ahhed over the cute baby clothes and toys.  I buried the hurt because that day wasn't about me.  It was about her.  It was a celebration of her baby.  It was her first and it was family.  Another guest announced her pregnancy at some point during the night. 
I got in the car at the end of the night, tears already streaming down my face before the key was in the ignition.  I had to pull over twice that night because I couldn't see the road through the tears. 
Today seemed worse than that night in some ways. 
I'm overjoyed with excitement because I know she's been where I've been.  She deserves this and so much more.  I'm also so sad because my outcome isn't as positive.  It's tough to swallow the fact that my baby-making days are over.  I feel like something has been stolen from me. 
I know if it's meant to be for us to have another child that it will all work out.  There are adoption and surrogacy options available should we decide to pursue this.
I'm leaning on Psalm 147:3 pretty heavily today. 
'He heals the brokenhearted and binds up their wounds'. <—Tweet this

It's a verse that reminds us that He is there for us no matter what we are going through.  For me, I'm brokenhearted today but not because my friend had her sweet baby. 
I'm brokenhearted today because I miss my angel babies.  I am brokenhearted because I know I'll never again see an ultrasound with my own sweet baby's profile.  
Is there something you are feeling down about?  Allow this verse to sit on your heart.  Know that He will heal you but it will be in His timing.  It won't happen over night but it will happen.
********************************************
–Join my co-hostesses and I this week for Into The Word Wednesday!
Becky at Tales of Beauty for Ashes
Sarah at Fontenot Four
Kelly at The Houtz House Party
Falen at Upward Not Inward
Kelly at Exceptionalistic (looks like you found me!)
Into the Word Wednesday blog hop rules (if you wouldn't mind!):
1. Link up about something you are learning this week.
2. Follow all hostesses via GFC or Google +.
3. Grab a button to put on your blog – the more the merrier! Check out our sweet new button…
.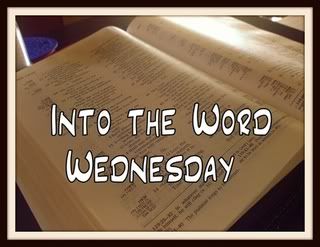 .
4. Check out (and comment) other people's blogs to bless them today!