So, my word for the year 2013 is balance.
When I read Lori's post about being unbalanced I knew I had to feature her this week.
Her metaphor about the battering ram showing up and wreaking havoc made perfect sense.
Have you ever had something pop up in your life that created a huge mess that you had to clean up?
Hop over to Hungry for God; Starving for Time and check out her post 'Are You Unbalanced? Three Questions.'
She'll ask you three questions to help you examine how to create balance in your life. 
For me, it was something I needed to hear this week as I'm balancing marriage, parenthood, work, blogging, and life in general!
********************************************************
Do you blog about marriage?   Grab a button and link up with us this week!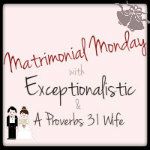 Were you featured this week?  Grab the button below and add it to your site!!