There are often many posts that are linked up each week that I think are amazing! 
I can't share them all but I hope you are definitely checking some (or all) of them out each week.  There is a treasure trove of great information out there.  And let's face it – we're a team aren't we? That's why we share/blog/write!!
~~~~~~~~~~~~
My first feature is from Robyn over at Robyn's View. 
She talks about creating a realistic budget so you can do the most with your money.  Not only does she have tips for creating the budget but she has printables that you can print out and use TODAY!  Woo hoo!
~~~~~~~~~~~~
Amy over at Plain and Not So Plain linked up a post about large family organization.  It's the first in a series she's has over there!  I mean, seriously, with 10 kids (yes, I said 10…that's a 1 with a 0 behind it). 
I love that she's sharing how she handles organizing her life which has to easily be 5x as hectic as mine since I only have two kids!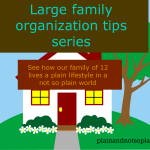 Hop over and show her some love.  I bet you'll learn something while you are there!! 
P.S.  Amy – you are building my dream. I always wanted a lot of kids and I love your story!  Oh, and I'm going to use this post later this week!
~~~~~~~~~~~~
Thanks for stopping by! Don't forget to hop over here and grab a button.  Link up your 'living' post below!