So, if you follow along you know that the blog has been down for about two weeks.  It was mostly my fault for trying to correct something that I had no idea how to fix.  It's all fixed up now and I'm back in the game.
At the moment I realized everything was gone, I almost panicked.  I was concerned about the numbers, followers, and most of all letting people down.  I link up with some other bloggers on a weekly basis.  I hated not being there to support and join in with them.
Then within about ten minutes I realized it was out of my control.  Once I calmed down and accepted that this had happened, I realized something.
I had been pushing, pushing, pushing.  I've been so busy lately with the kids, school, both jobs, the blog, photography, and a few other projects I'm working on.
The night the blog went down it all hit me.
It was time to slow down.  I've been stretched too thin and for far too long.

I had been thinking I was doing too much for a while.  Yet, when each opportunity presented itself, I pushed on.  I continued to do what I thought was best rather than paying attention to what was being asked of me. 
Then a few days after the blog went down, it hit me.  This is my cue to make a change.  Actually it was less of a cue and more of a smack in the face and I needed it.  I was being forced to obey and it was exactly what I needed.

In the past two weeks this has happened:
I've rearranged my schedule at my part time day job.  I made the decision that I could do the days/times that worked for me and if I wasn't needed in the management position then so be it.  Well, I'm still there because they don't want to lose me and have the schedule I need to make my life work.  

I've picked up a few extra days at the night job here and there which will help pay for a few upcoming vacations. 

I've instituted 'family Thursday' which is our one full day per week that we will utilize for activities such as the zoo, museum, parks, or anything else that we feel like doing. 

I've gotten organized when it comes to blogging.  I remembered that I started this for me.  If I don't feel like blogging multiple times per week to keep up with the professionals, then I won't.  I'm not getting caught up in the numbers when I'm still so new to this. 

I've been more intentional with my family time.  It's sacred and I'm not willing to give it up for a few extra dollars.  It's not worth it.  I won't get these years back and the kids almost seem to have grown several years over the past few weeks. 

I've become less stressed and more relaxed.  I've been able to enjoy my time off instead of dreading the next time I had to be at work.
Won't you join me in taking a step back so we can hear what we are being asked to do? 
This life we are living needs to be the best one because it's the only one.  It took the blog meltdown to catch my attention.  Oh, there were other signs but this one was out of my control because I could not fix it on my own. 
What has it taken for you to realize you weren't being obedient? 
********************************************
–Join my co-hostesses and I this week for Into The Word Wednesday!
Becky at Tales of Beauty for Ashes
Sarah at Fontenot Four
Falen at Upward Not Inward
Kelly at Exceptionalistic (looks like you found me!)
Into the Word Wednesday blog hop rules (if you wouldn't mind!):
1. Link up about something you are learning this week.
2. Follow all hostesses via GFC or Google +.
3. Grab a button to put on your blog – the more the merrier! Check out our sweet new button…
.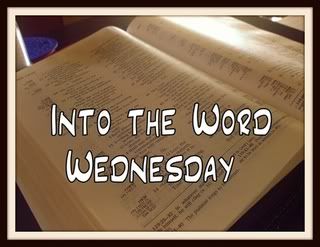 .
4. Check out (and comment) other people's blogs to bless them today!