I have a very special post for you today! 
Jamie from Loving When It Hurts is here to share. 
I couldn't keep this held back any longer.  I know many of you that follow our Into the Word Wednesday link ups will be encouraged and changed by what she has to say.  
She is open, raw, and real. 
No more stalling!  Here she is. 
*****************************************************************
Most of you don't know me.
You don't know my story.
You don't know the path I have taken, or the choices I have made, that have made me the woman that I am today.
You don't know that I nearly destroyed my 13 year marriage because I became a person I never thought I could become.
You don't know that I spent 7 years of my marriage trapped in an adulterous relationship with a friend's husband, or that when my husband found out, I turned my back on my marriage and walked away.
Sometimes I like to call myself Gomer, because I can relate so well with her life. Hosea ran after her, as she went to another man's arms, time and time again.
But in reality, my name is Jamie, and after finally hitting the proverbial "rock bottom," I found myself broken and alone, unsure where to turn. I had long since given up hope that the God I grew up believing in heard the cry of my heart. I had prayed for 5 years that he would release my husband from the bondage of an addiction to pornography, and time and time again, my husband turned to other women. Virtual or not, he had his own share of affairs during that time. Jesus said that simply looking at a woman lustfully is committing adultery, and my husband would tell you that he couldn't even begin to count the number of women he looked at on the internet.
When I chose to turn around and go home to my husband, severing my affair completely, I was still upset with God. Well, no, not upset. I looked at him as something fearful. I knew my sin full well, and I believed that there was no forgiveness left for me. I knew that God forgave ALL sin, if we would just ask, but I was sure that if I asked, I would be told that my sin was too great. What I had done was too bad, and that I was far beyond the reach.
I did not know that when I returned to my husband, God would begin to woo me back to him. He used music, which has always touched my soul and made me feel alive. And he used my husband, our counselor, and a new church family to draw me back to his arms.
It has only been 9 months since I found myself face down at the feet of Jesus. Letting my walls down and letting go of my fear of God's wrath was the hardest thing I have ever done. I would never have guessed then that I would be sitting here today, sharing a small part of my story with you.
The blessings that come from a life completely surrendered to Christ are innumerable. I cannot even begin to write in one post all that God has done for me since I chose to fight for my marriage, and to accept his love and forgiveness.
I guess what I really want to say today is that whatever path you are on, whatever your story is, allow God to use it. Be honest. Be transparent. Don't let fear or the enemy's lies prevent you from sharing your struggles with someone else. You never know when a person might need to hear exactly what you have to say. And when you are open to what God wants to do through you, the blessing will overflow. That is a promise!
Proverbs 3:3-5
Let love and faithfulness never leave you;
bind them around your neck,
write them on the tablet of your heart.
Then you will win favor and a good name
in the sight of God and man.
Trust in the Lord with all your heart
and lean not on your own understanding;
in all your ways submit to him,
and he will make your paths straight.
********************************************
–Join my co-hostesses and I this week for Into The Word Wednesday!
Becky at Tales of Beauty for Ashes
Sarah at Fontenot Four
Kelly at The Houtz House Party
Falen at Upward Not Inward
Kelly at Exceptionalistic (looks like you found me!)
Into the Word Wednesday blog hop rules (if you wouldn't mind!):
1. Link up about something you are learning this week.
2. Follow all hostesses via GFC or Google +.
3. Grab a button to put on your blog – the more the merrier! Check out our sweet new button…
.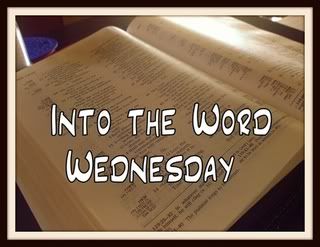 .
4. Check out (and comment) other people's blogs to bless them today!