I have something special for you today!  
Do any of you try to live a balanced, healthy lifestyle?  Do you enjoy creating new items as a way to express yourself?

If so, you have something in common with Erin.  She is the owner over at Our Patriot's Dream Farm.   I find this next part so fascinating about her family hobby farm.  They raise Pygmy goats and poultry. 
I say I'm fascinated because last summer my husband and I watched We Bought A Zoo.  Afterward we looked at each other and we both said 'let's buy a zoo!'   It was such a great movie and very heartwarming.  Every year we head to a nearby pumpkin patch to feed our favorite goats.  They are so much fun.  The kids love it!  Yep, it's out there.  I'd love to buy a zoo! 
All the difficult, yet satisfying work that goes into running a family farm.  I find it to be such a great way of life.  I've often wondered how it would be if we didn't have all this technology. 
What if we slowed things down and lived like they did in my grandma's generation?  Less two income families, more eating at the dinner table, and less stuff.  All the while working toward a family goal like Erin and her family. 
My hat is off to her! 
She sent me some amazing things to check out.  
First of all, this beautiful etched glass.  It has a hummingbird and some flowers.  It's just gorgeous.
The earrings are so beautiful.  Sorry for the super bright contrast on the paper. I wanted to be sure the specks of blue showed up just so.  I love these!!!   They can be worn with just about anything. 
The soaps!  Oh, the soaps.  This one below is my favorite.  I loved the butterfly one as well but I gave that to a friend.  She LOVES homemade items.  I just knew she'd love it.  The fragrance is unbelievable and it is so silky smooth.  A must try!!
Here is what she had to say about the soaps:  
'With respect to the soap and lotions bars and lip balm, I love to cook, bake and try new things. When my oldest child turned up allergic to so many things, she could not even use baby oil. So I learned to make soap that would work for her, with no synthetic ingredients, harmful chemicals or preservatives.
When people learned I could do this well, they began coming to me with special requests for their own needs, like no coconut oil or other special requests for their personal health needs.'
I'll be honest with you here.  I may have to order these!  One of my favorite items on the site!!  I bet you can't guess why.  In case you are new here, I'll give you a hint.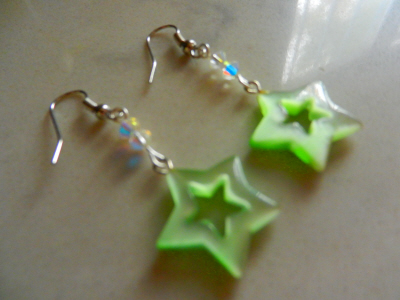 Now for the most exciting part!! 
You have a chance to win.  Erin is giving away an etched glass, a pair of earrings, two soaps, and a lotion bar/lip balm combo.  An amazing basket of goodies!  
Enter below!
a Rafflecopter giveaway