Archive for the 'Family' Category
I love when the Lord speaks to us in unexpected ways.  Today was one of those days.
The kids and I were headed out to grab a quick lunch with my mom earlier this week.  As we got in the car the rain started to drizzle.  As we left the driveway the sky turned dark.  There was an unknown car parked on the street across from our house.  I had seen it last week in the driveway of a neighbor but didn't think much about it.  We continued on about our way.
The rain was coming down in buckets, thunder crashing.  We thought twice about heading to the restaurant less than 4 miles from our home.  We turned back.  The rain continued, not planning to stop any time soon.
As we drove back to our house we saw the car again.  The window was open.  Rain pouring inside the car.  All I could think of is what an awful mess it would be to clean up.  Scouring the garage to find something, anything to cover this window my oldest was trying to help.
He's 5 going on 12.  So inquisitive.  The entire time he was asking why I was covering up the window.  I explained to him that sometimes we do things to help others.  I knew the neighbors were at work and didn't know how long the storm would last.  I explained that this small thing would take 10 minutes and a change of clothes for me to help.  The damage to that car sitting in the rain for an entire day would take much more time for the neighbor.
We found a large lawn trash bag.  The big one watched the little one in the safety of the garage as I ran down the driveway.  I didn't take an umbrella because it would really have been of no use.
I opened the door, covered the window as best I could just trying to keep the water from rushing in.  After changing and drying off, I started getting lunch ready.
My oldest turned to me and said 'Mommy, that was a really nice thing you did for those people.'  Wow. I was floored.  I don't know why.  I guess I didn't expect him to think much more about it but he did.  The wheels had been turning.
I began thinking about how much children watch our actions rather than our words and what the bible says about this. You can hover over the verse to see more.
Proverbs 22:6
James 3:13
1 John 3:17-18
Colossians 3:23
Is there a time recently that your children watched your actions and reacted to it?  I'd love to hear about it!
–Join my co-hostesses and I this week for Into The Word Wednesday!
Becky at Tales of Beauty for Ashes
Sarah at Fontenot Four
Kelly at The Houtz House Party
Falen at Upward Not Inward
Kelly at Exceptionalistic (looks like you found me!)
Into the Word Wednesday blog hop rules (if you wouldn't mind!):
1. Link up about something you are learning this week.
2. Follow all hostesses via GFC or Google +.
3. Grab a button to put on your blog – the more the merrier! Check out our sweet new button…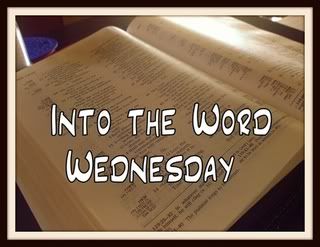 Check out (and comment) other people's blogs to bless them today!
If you enjoyed this post, say thanks by sharing it!
I remember seeing several posts on Facebook a few months ago on the Child Training Bible. I thought it was amazing! I actually forgot about it until I started this blog. I saw review after review, giveaway after giveaway. I really wanted to be able to give one of these away. I was so excited when I got the opportunity when I asked them if I could review their product!!

I don't know if you are like me but I absolutely love shopping for anything school related. So when I saw that I needed post-it tabs and Sharpie highlighters I was thrilled!  
I actually headed out to buy a new bible because mine already has been highlighted in and is pretty used.  I found this one which is the NIV version but also has any scripture about God's love already highlighted.  I thought that would be an added bonus!
The instructions were very easy to follow.  I thought this was going to take much more time than it did.  I didn't do it all in one night. I wanted to take my time.  I will suggest not to try to put this together while doing anything else!  On the first few I started highlighting the wrong passage.  Definitely take your time with it.
I actually found this video on the Child Training Bible website which is so helpful.  You can see that Mindy and her husband have so much love put into this product they created.
I am thrilled to have a resource that helps me walk my child through learning about their emotions as well as other issues.  Have you had to teach your child about unforgiveness?  How about pride, jealousy and disobedience?  All of these topics and more are covered with the Child Training Bible chart set.
Not only are there 21 topics highlighted but there are also questions we can ask our children to open up discussion. While we are discussing we can talk about how Jesus handled each situation in the Bible.  The best part in my opinion are the prayers we can speak over our children.  Have you ever been ready to sit down with your child to discuss but the words didn't come?  We use recipes to remember ingredients and instruction manuals to help us build.  Now we have a tool to help us build a long-lasting relationship between our us, our children and Him.
I really feel strongly that this product is a must for any family that wants to train their child in the Lord.  I am excited to put it to great use with my children.   I hope to post more in the future about our use of this amazing product!
a Rafflecopter giveaway

If you enjoyed this post, say thanks by sharing it!
This one is emotional for me.  A large portion of this story has been left out. I'm not yet ready to share it.
I chose broken because I feel like my body let me down.   It didn't work as it should have.  I was healthy and in fairly good shape each time.  I've never broken a bone.  I've never had a long-term illness.  No high cholesterol, no high blood pressure, no issue really of any kind. 
Yet each time I got pregnant there were issues.  Big issues.  Enough to knock me off my feet and make me wonder why this had to happen. 
I don't mean to complain or compare but it can be difficult. 
I hear stories all the time about kids being hurt, killed or neglected.  Several stories of people having more and more children they don't want or can't afford. 
All I ever wanted to be was a mom.  I was significantly older when I finally had a sibling so I grew up caring for him.  Learning how to be a mom and care for a baby was well developed before I had my own.
I love being a mom.  I think daily about how I can encourage my little sweetlings to live their dreams.
Don't get me wrong. I love my sweet babies.  I love them more than anything in this world.  I wouldn't trade them for the world…
but it still hurts that we aren't able to have any more.  I'm disappointed in my body because I feel it has let me down.  Even though my husband has said he's happy with our life the way it is I still feel as though I've let him down.
I'm slowly getting over this but it still hurts.  I'm always happy to hear when a friend is newly expecting but there is still a twinge of hurt.
This story does have a happy ending.  We have two beautiful babies of our own and the possibility of surrogacy or adoption in the future.
Each day I thank God for what I have.  I'm so thankful my babies are here.  I promise to enjoy them to the fullest and love them with my whole heart.
None of this compares to those that have never had their own.  I know how blessed I am to have what I have.  I pray for those that so desperately want a child.  There is always a rougher story but this is mine.  I'm working my way through it!
Join up with us next week with Love Kate for the All About Me A-Z challenge. 
If you enjoyed this post, say thanks by sharing it!
Have you ever been in a situation that you wish wasn't happening?
Been caught in fear of the unknown?
Welcome to the past week of my life!  I've been scared of the future and beyond nervous about how things will turn out.
The reason?  These two little guys below…they are my number one priority.
I'm seeing a glimmer of hope this evening.  You probably won't believe it if I tell you but here we go.
I basically found out that my job is no longer.  I work from home so I can be home with my little ones.   They've never been in daycare.  Never been cared for by anyone other than family, us or our sweet little high school babysitter (who we dearly adore).  Hubby is in school full time right now and has been since his company closed down months ago.
Stress right?!?  Where does the money come from? Is staying in school an option right now?  Will we be able to stay in our house?  Questions galore pop in my head.  I start thinking of what we can sell (house included if it came down to it), how to make extra money, job-searching all over God's green earth.
Glimmer of hope number one:  I have great relationships with everyone at my current job.  I casually mentioned the dreadful news to a long-time customer I know is a Christian in hopes that he'd just pray for me.  He told me he's currently brainstorming with his new company and wants my personal information along with my skills.  He's told me how much he appreciates me and that me being employed in a capacity to help him is in his best interest.
Glimmer of hope number two:  Playing Words with Friends.  I wasn't even going to play tonight (even though it's my favorite game) because I was feeling down.  I went ahead and a past co-worker I play with messaged me that her son wants to talk with me about helping with his business…am I interested.  Ummm…yes please!
All of this within 3 hours.  One door closes, two more open in the most unexpected of places.
Wow…feeling bad about being down earlier.  I should have known He'd take care of me.  I know better than to think it's all up to me.
Psalm 55: 22  Cast your burden upon the Lord and He will sustain you; He will never allow the righteous to be shaken. 
If you enjoyed this post, say thanks by sharing it!
What is the story behind this picture?  Is it a father and daughter?  A mother and son?  Is it a couple in love?  A couple in the midst of celebration?  In the midst of tragedy?
Every picture has a story. Some say a picture is worth a 1,000 words.  Is this one?  You bet.
Documenting our story through pictures is a wonderful way to remember exciting, monumental moments in our lives.  I've always wanted to be a photographer.  In my dreams I'm working professionally as a photographer.  As in any other profession there are ups and downs to any job.
The story behind this photograph is a man and woman.  A husband and wife.  In the midst of tragedy.
I had the honor of photographing a friend just after she'd delivered, at 19 weeks, her stillborn baby. The baby she'd been praying about for months already.  It was a very emotional night.  Her little tiny baby boy was perfect….10 fingers, 10 toes, perfectly formed mouth, nose, eyes, ears, just beautiful.
The glorious moments of your story are typically photographed.  Weddings, graduations, babies, first days of school among them.   These sad, tragic moments are sometimes just as important to photograph because they are part of your story.
This post is linked up Gypsy Mama for 5 Minute Friday.
What is 5 Minute Friday?
1. Write for 5 minutes flat on the prompt: "Story" with no editing, no over thinking, no backtracking.
2. Link to Gypsy Mama and invite others to join in.
3. And then absolutely, no ifs, ands or buts about it, you need to visit the person who linked up before you & encourage them in their comments. Seriously. That is, like, the rule. And the fun. And the heart of this community..
So…what's your story?
If you enjoyed this post, say thanks by sharing it!