Archive for the 'Children' Category
I must start by saying if you love your children you need this book.  I know, I know.  That is a bold statement.  I mean if you truly love and would give anything for your child to achieve his dream, you need this book as a resource. 
I received this book to review and I am so happy I did!  If not, with all the great books out there I may never have found it.  I'll give you a second to put it on your to-buy list!
I love to read. It's a passion of mine. There is something about holding a book, turning a page and getting lost in a story.  Since becoming a mom the reading has taken a backseat.  There just doesn't seem to be as much time in the day to sit down with a glass of tea and good book.  I have to squeeze in a chapter here, a page there throughout an already busy day.
Kate Battistelli must have known this about me!  Her book Growing Great Kids is an easy read but stuffed to the brim and full of examples she and her husband have experienced while raising her daughter.  Each chapter walks us through several common issues when raising children.  A few of my favorite chapters include:
The Power of a Parent's Words

When Your Ceiling Becomes Their Floor

Prayer, The Essential Ingredient

Timing Is Everything

One specific thing I really needed to hear from her is that our parenting manual is the Bible.  This is so simple yet so powerful.  How often have you wished the hospital had sent home directions on what to do with that new bundle of joy? 
I believe this book is an essential resource to be used in addition to the Bible.  I was really impressed by the additional information that was included. I had expected to read the story of her life as a parent and was pleasantly surprised that each chapter ended with 'questions to think about' and a prayer. 
Oh, the prayers!  I was so encouraged by them that I wrote them out on cards to use during our nightly family prayers.  Below is one of my favorites.
Lord, as You've helped me to see the gifts residing in my child, please show me practical ways I can make his gifting shine!  Give me the financial resources to provide the fuel for my child's dreams. Help me to learn everything I can about the things he is passionate about and to provide the good soil his gifts need in which to grow and develop.  Above all, let me be an enthusiastic voice of encouragement to him to help him face any fears and overcome whatever obstacles may come.

I am not required to provide a stellar review but I am impressed with this book.  Some books are a nice read and that it the end of it. It either collects dust or ends up in the giveaway pile.  This is not one of those books. I have highlighted and dogeared my copy already.  As the mother of toddlers I have a feeling this book may be in shreds by the time those kids are off and married!!
You can learn more about Kate Battistelli on her website, Facebook or Twitter.  She also offers discounted autographed copies here which would make for a great gift for a new parent!  I plan to buy a few for Christmas gifts.

If you enjoyed this post, say thanks by sharing it!
This was really fun! I found the recipe on Pinterest which took me to I Heart Naptime. Have you seen her blog? Amazing!!!
These are called Jello cookies. The super full part of this is that the kids can play with this like playdough!  The boys had fun playing with the dough and tasting each flavor before we baked them.

Here's what you need:
3.5 cups of flour

1 tsp of baking powder

1.5 cups of salted butter

1 cup of sugar

1 egg

1 tsp vanilla

4 (3oz.) packages of Jello
First we'll beat the butter in a large bowl.  Mix with a mixer until it's creamy then you add the sugar and beat until a light and fluffy consistency. Blend in vanilla and sugar next.
Mix the baking powder and flour in another bowl then gradually beat the flour mixture into this bowl.
Divide dough into 4 sections and sprinkle 2 tablespoons of jello onto each section. We tried lime, cherry, strawberry and orange.  Knead it into the dough.  You can add a few drops of food coloring if needed. We only added one drop to the lime to make it more green.
Shape the dough into 1 inch balls and roll in the extra jello.  Place them 2 inches apart on a baking sheet. Flatten with the bottom of a bowl or do a criss cross with a fork.  Either way is fun!
Bake 8 to 10 minutes at 350 degrees.
Enjoy!!!
If you enjoyed this post, say thanks by sharing it!
I love when the Lord speaks to us in unexpected ways.  Today was one of those days.
The kids and I were headed out to grab a quick lunch with my mom earlier this week.  As we got in the car the rain started to drizzle.  As we left the driveway the sky turned dark.  There was an unknown car parked on the street across from our house.  I had seen it last week in the driveway of a neighbor but didn't think much about it.  We continued on about our way.
The rain was coming down in buckets, thunder crashing.  We thought twice about heading to the restaurant less than 4 miles from our home.  We turned back.  The rain continued, not planning to stop any time soon.
As we drove back to our house we saw the car again.  The window was open.  Rain pouring inside the car.  All I could think of is what an awful mess it would be to clean up.  Scouring the garage to find something, anything to cover this window my oldest was trying to help.
He's 5 going on 12.  So inquisitive.  The entire time he was asking why I was covering up the window.  I explained to him that sometimes we do things to help others.  I knew the neighbors were at work and didn't know how long the storm would last.  I explained that this small thing would take 10 minutes and a change of clothes for me to help.  The damage to that car sitting in the rain for an entire day would take much more time for the neighbor.
We found a large lawn trash bag.  The big one watched the little one in the safety of the garage as I ran down the driveway.  I didn't take an umbrella because it would really have been of no use.
I opened the door, covered the window as best I could just trying to keep the water from rushing in.  After changing and drying off, I started getting lunch ready.
My oldest turned to me and said 'Mommy, that was a really nice thing you did for those people.'  Wow. I was floored.  I don't know why.  I guess I didn't expect him to think much more about it but he did.  The wheels had been turning.
I began thinking about how much children watch our actions rather than our words and what the bible says about this. You can hover over the verse to see more.
Proverbs 22:6
James 3:13
1 John 3:17-18
Colossians 3:23
Is there a time recently that your children watched your actions and reacted to it?  I'd love to hear about it!
–Join my co-hostesses and I this week for Into The Word Wednesday!
Becky at Tales of Beauty for Ashes
Sarah at Fontenot Four
Kelly at The Houtz House Party
Falen at Upward Not Inward
Kelly at Exceptionalistic (looks like you found me!)
Into the Word Wednesday blog hop rules (if you wouldn't mind!):
1. Link up about something you are learning this week.
2. Follow all hostesses via GFC or Google +.
3. Grab a button to put on your blog – the more the merrier! Check out our sweet new button…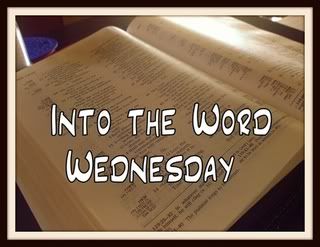 Check out (and comment) other people's blogs to bless them today!
If you enjoyed this post, say thanks by sharing it!
I remember seeing several posts on Facebook a few months ago on the Child Training Bible. I thought it was amazing! I actually forgot about it until I started this blog. I saw review after review, giveaway after giveaway. I really wanted to be able to give one of these away. I was so excited when I got the opportunity when I asked them if I could review their product!!

I don't know if you are like me but I absolutely love shopping for anything school related. So when I saw that I needed post-it tabs and Sharpie highlighters I was thrilled!  
I actually headed out to buy a new bible because mine already has been highlighted in and is pretty used.  I found this one which is the NIV version but also has any scripture about God's love already highlighted.  I thought that would be an added bonus!
The instructions were very easy to follow.  I thought this was going to take much more time than it did.  I didn't do it all in one night. I wanted to take my time.  I will suggest not to try to put this together while doing anything else!  On the first few I started highlighting the wrong passage.  Definitely take your time with it.
I actually found this video on the Child Training Bible website which is so helpful.  You can see that Mindy and her husband have so much love put into this product they created.
I am thrilled to have a resource that helps me walk my child through learning about their emotions as well as other issues.  Have you had to teach your child about unforgiveness?  How about pride, jealousy and disobedience?  All of these topics and more are covered with the Child Training Bible chart set.
Not only are there 21 topics highlighted but there are also questions we can ask our children to open up discussion. While we are discussing we can talk about how Jesus handled each situation in the Bible.  The best part in my opinion are the prayers we can speak over our children.  Have you ever been ready to sit down with your child to discuss but the words didn't come?  We use recipes to remember ingredients and instruction manuals to help us build.  Now we have a tool to help us build a long-lasting relationship between our us, our children and Him.
I really feel strongly that this product is a must for any family that wants to train their child in the Lord.  I am excited to put it to great use with my children.   I hope to post more in the future about our use of this amazing product!
a Rafflecopter giveaway

If you enjoyed this post, say thanks by sharing it!