Archive for the 'Fun' Category
Have you ever seen the guys in the mall with the remote control helicopters?  Pretty cool, huh?
I was contacted by a company called Xenon Project about a potential giveaway for my readers.  I took a look and just knew that this could make a wonderful Christmas gift.  As the mom of little ones I'm always looking for cool gifts for them.
When I was little my dad used to build model cars and we'd race them around the street.  It was so much fun.  It brought back a lot of memories as I looked through this website.
I'm excited to host this giveaway because I know firsthand how fun these types of toys are.  I do want to let you know that I haven't reviewed or even seen these products in person.  I have used and seen products similar many times.
Xenon Project is a southern California based company.  They sell remote control toys that include tanks, boats, helicopters, and cars.
Here we go!
Rather than choose the one I like best and give it away, I'm going to give you a choice!
These are your options!
#1
#2
#3
#4

a Rafflecopter giveaway

If you enjoyed this post, say thanks by sharing it!
I feel so honored!
One of my faves, Funny Postpartum Lady, sent me an award.
So you'll get to learn a little more about me because there are rules that come with this award.
Here's what they are:
Each person must post 11 things about themselves.
Answer the 11 questions the person giving the award has set for you.
Create 11 questions for the people you will be giving the award to.
Choose 11 people to award and send them a link to your post.  Go to their page and tell them.
No tag backs.
Here are my 11 facts:
I love, love, love the color lime green.

I started this blog one night on a whim. Bought my domain name and never looked back.

I can count my really close friends on one hand.  They know who they are.

I'm a master multi-tasker.  Okay, I've not taken a test but I'm pretty good!

I believe everything in life relates back to a Friends episode.

I put lotion on my feet every single night.  I have a thing about dry feet.

I love accessories.  Hats, scarves, jewelry, shoes…it's all good!

I am rarely with a camera. I always have a point and shoot in my purse.

When I get upset or mad, I clean.

I'll forgive but I won't forget.

I always give my all and then some.
Here are the questions I have to answer.
1. What is your favorite 90′s movie?   Titanic
2. What is your favorite color? Lime green (see number 1 above)

3. Do you have pets? If so, what kind and what are their names?  One cat. He's deaf so he has many names.

4. If you could be a guy for a day, what would you want to do?  Whatever I want!
5. If you could look like an actress, who would it be?  Salma Hayek

6. What is your favorite TV Show?  Parenthood

7. Is there something you want to say to someone anonymously? If so, say it here.  Bad seeds always come back to haunt.  Be watchful of how you treat people. 

8. Why do you blog?  To be me. To write. To grow.

9. How long have you been blogging?  6 months

10. If you and I could hang out, what would you want to do?  Dinner and drinks

11. What did you want to be when you grew up as a kid?  A mom.
Here are some of my nominees!  Go visit when you get a chance.
Auntie Em's Guide to Life
Mother Daughter Book Reviews
My questions for them are:
What physical feature about yourself do you like?  Why?

What is your favorite childhood memory?

What is a tradition  you've started in your family?

Is there anything I'd be shocked to learn about you?  Can you share it?

What is your main reason for blogging?

If money were no object, what would change in your life?    <—- Tweet this


What is your favorite Christmas movie?

What is the best word or phrase that describes you?


Do you have a favorite vacation spot? If so, where?

Where do you hope to be in 5 years?

Where have you lived during your life?
If you enjoyed this post, say thanks by sharing it!
Could I be the only one?
Excitement over something like this seems silly until you understand.
I've never done it.  Not fully.  Not permanently. 
There are so few that I can't even post a picture.  They are few and far between.  Almost non-existent.
I can see them.  No one else seems to notice.  They are there though as a reminder of another year past. 
Maybe soon I will get to change them. 
As more show up I get a little more excited. 
A reason to go to the salon.  A reason to color my hair. 
I've spotted a few growing there where I part my hair.  Not nearly enough yet but soon.
One of these days those roots will turn into full blown gray hairs.
If past generations dictate, I have well over 40 more years until they are prominent enough to need attention. 
Nonetheless I am excited!  Or maybe I'll grow tired of waiting and just color my hair the way people do every day. 
We'll see. 
***********************************
Now, set your timer, clear your head, for five minutes of free writing without worrying about getting it right.
1. Write for 5 minutes flat – no editing, no over thinking, no backtracking.
2. Link back here and invite others to join in.
3. And then absolutely, no ifs, ands or buts about it, you need to visit the person who linked up before you & encourage them in their comments. Seriously. That is, like, the rule. And the fun. And the heart of this community..
Oh and Ahem, if you would take pity and turn off comment verification, it would make leaving some love on your post that much easier for folks!
OK, are you ready? Please give us your best five minutes on:::
Roots…
If you enjoyed this post, say thanks by sharing it!
It's getting colder, daylight is getting shorter, and daylight savings is just around the corner. 
Fall is my favorite season for the amazing colors, cooler weather, and of course the opportunity to wear amazing boots! 
I also love the first day of spring where the sunlight warms your face as you walk outside. 
It reminded me of this verse:
Isn't this the absolute truth?!  He turns our darkness into light.  He guides us and loves us throughout our lives.  Even those times when we are living in darkness without Him. 
One of my favorite things about knowing Him is knowing that He will always be there.  Yep, even after I've sinned.  Even after I've strayed.  Even after I've lost my way. 
No matter what season I'm in or where I am in my walk with Him, He is there. 
I love that I don't have to navigate this life alone.  I don't have to do everything with my own power.  I can lean on Him, trust Him, and cast my cares upon Him. 
Have you allowed Him to shine his light on you today? 
Close your eyes and feel the warmth.  To me it feels like that first warm day of spring.  Bask in the light today!  He is there for you no matter where you are in your relationship with Him!! 
********************************************
–Join my co-hostesses and I this week for Into The Word Wednesday!
Becky at Tales of Beauty for Ashes
Sarah at Fontenot Four
Kelly at The Houtz House Party
Falen at Upward Not Inward
Kelly at Exceptionalistic (looks like you found me!)
Into the Word Wednesday blog hop rules (if you wouldn't mind!):
1. Link up about something you are learning this week.
2. Follow all hostesses via GFC or Google +.
3. Grab a button to put on your blog – the more the merrier! Check out our sweet new button…
.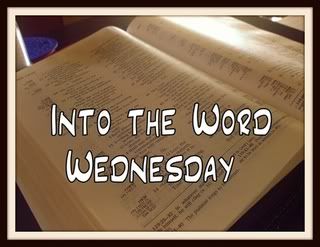 .
4. Check out (and comment) other people's blogs to bless them today!
If you enjoyed this post, say thanks by sharing it!
This week I have a different kind of marriage post! 
I'm going to list the top ten things I really can't stand but I do anyway out of love for my husband.
5 — Watching movies with the surround sound turned up to 25.  I have always had sensitive ears and still do.  I can handle a wild, rowdy Metallica concert (even at 7 months pregnant), but I do not like it that loud in my house! 
4 — Making tuna sandwiches.  I used to like tuna pre-pregnancy.  Since then, I can not stand the smell of tuna.  Makes me dry heave!
3 — Cleaning the garage.  I am so much better at Tetris than he is.  I can stack and organize much better.
2 — Mating his socks.  Why do all men's socks look the same?  Particularly the black dress socks.  They never match!! 
1 — Watching….
It started with several people saying this was a great show.  I love scary movies.  I mean truly scary movies.  I don't do zombies, vampires, or movies like Paranormal Activity.  I don't find those things scary at all.  He watches while I blog and half pay attention to the show. He knows it's not my thing but appreciates not watching it alone. 
Of course I post this all in good fun.  I'm not forced to do any of these things.  I'm willing to do them because I love my husband and these are some things he likes. 
What are some things you do that perhaps you don't prefer?
*************************
Grab a button and link up! 
.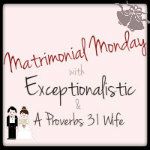 .
If you enjoyed this post, say thanks by sharing it!