Archive for the 'Purpose' Category
A little background on me.   Since I was probably ten years old, I couldn't wait to be a wife and mom.  I wanted a family of my own.  I would spend days upon days at my grandmother's house and loved every minute of it.  She didn't drive and she didn't work.
I found her life to be so fulfilling.  She waited on my grandpa hand and foot.  She raised her kids and helped raise her grandchildren.  We'd bake apple pie, homemade twinkies, and cookies every single time I was there.  We'd play several games of scrabble in a day and turn in exhausted from a day of homemaking.
I wanted this in a marriage.  I wanted to keep the house.  I wanted to not work, bake, cook, clean, be a wife, and raise children.  I still do.
Fast forward to the here and now.
Last year we were caught in the midst of a conspiracy.  It was a leap of faith for him to leave a job after nine years to start a new career.  Then, suddenly, less than a year later unfortunate events forced the owner of his new company to close the doors. 
We were thrown into a new season of life.  A season we were unprepared to deal with. 
The decision to go back to school was one I encouraged.  It was an ideal opportunity and one I completely support. 
You see, I could have been more concerned about what I wanted or discouraged him from following his dream.  I could have whined about the effect it would have on our family.  I could have moaned about how it would disrupt my being home with the kids. 
Had I done any of these things he would have taken another mediocre job to support us for the next 30 or so years.  If I hadn't supported him in this he could have pushed his dream to the side to do what he felt obligated to do.    
I know this because he did exactly this when we had our first child.  He stayed in a crappy job because it was steady and secure.  In an economy like we've had the past few years, it was safe. 
I could have stomped my feet, thrown a fit, and chosen to be selfish.  I could have.  At times I wanted to. 
Instead, I chose to put on my big girl panties and decided to step up to the plate.  <— tweet
The past year has been stressful.  I have stepped into the role of provider while he is completing his schoolwork.  I don't mind it.  It's something I can do to support him right now.  A year or two is nothing when looking at the rest of our lives.  
I decided it was my duty to do whatever it took to allow him to fulfill his dream.  Sure, it's hard on me at times.  It's true I rarely sleep because of juggling the house, the kids, and two jobs.  The good news is this will be a short season and I can do anything for a short period of time. 
Sometimes being of service to our husbands is more than laundry, making dinner, and caring for the children. <—  tweet

Sometimes it is supporting him in a new endeavor that will forever change the path of his life. 
For better or worse includes anything that falls in between.  Right now we are somewhere in between.  It has been better and it certainly could be worse.

No matter where in that spectrum your marriage may fall, remember that for better or worse isn't always worse.

I'll leave you with a few questions I asked myself.

Are you feeling like you are smack dab in the middle of the worse?  

Could looking at your situation through another perspective help you make it through? 

Is there something you could do to be of service to your husband during this season? 
Check out a few other posts in this series with the ladies below! 
Kayse @ KaysePratt.com
Monica @ Elevate Ideas
Emily @ Primitive Roads
Jamie @ Brown Paper and Strings
If you enjoyed this post, say thanks by sharing it!
Sometimes it's difficult. 
Once in a while the words are right there on the tip of my tongue yet my fingers don't seem to work. 
Could it be? 
The idea of my thoughts sitting there as bare as can be for all the world to see.  The act of opening up my soul is sometimes intimidating. 
There are unanswered questions like:
What will the reaction be? 

Will anyone even read it? 

Will it be helpful and encouraging? 

Will someone take offense? 

Will it be the most amazing piece of writing I've ever created? 
So I decided long ago that I write with purpose for Him and for me.  Knowing my words are being absorbed is just a bonus! 
If you have a yearning to bare your soul and share your story, please know that you will have an audience. 
Even if it's just you and Him, (and me). 
*****************************
Join in and write.  Five minutes.  One word. 
If you enjoyed this post, say thanks by sharing it!
See?
He has a plan, He is guiding us all along the way. 
I don't know about you but there are times when I worry.  I get concerned when making decisions.  Sometimes I over-analyze when moving forward. 
Guess what!
There is  no need to worry.   We are human.  We make decisions with our hearts. 
Even if we choose a wrong path, the Lord will guide us back on track.  No more worry!  No more concern!
I've been a little nervous about my new venture.  I have my first official photo shoot later tonight actually!  It's not my first shoot.  So why am I nervous?
It's the first one since I officially bought the domain name for my studio and decided to just go for it. 
It's a dream come true.  Of course, I still have a ton of work to get started but at least the process has begun. 
Join me and let's make 2013 our year!!!
What dream have you wanted to follow? 
*************************************************************
–Join my co-hostesses and I this week for Into The Word Wednesday!
Becky at Tales of Beauty for Ashes
Sarah at Fontenot Four
Kelly at The Houtz House Party
Falen at Upward Not Inward
Kelly at Exceptionalistic (looks like you found me!)
Into the Word Wednesday blog hop rules (if you wouldn't mind!):
1. Link up about something you are learning this week.
2. Follow all hostesses via GFC or Google +.
3. Grab a button to put on your blog – the more the merrier! Check out our sweet new button…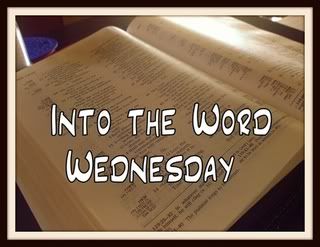 4. Check out (and comment) other people's blogs to bless them today!
If you enjoyed this post, say thanks by sharing it!
The moments in between are the ones that are my favorites.  Are you familiar with those? 
That moment when I'm right smack in the middle of something fairly important. 
Interrupted by the random thought of one of my little ones. 
I forget about the laundry, the dishes, and the vacuuming.  I take the opportunity to listen. 
It is in these small moments that I remember that they are only little for a short while.  I'm afraid I'll miss something amazing if I don't choose to listen.
As if in the blink of an eye they'll be grown and I won't remember this age.  That I won't remember all the cuteness. 
What I'm doing is rarely important enough to not take the time.  What is happening in their small world at that point in time is a huge deal. 
It is in these small moments that I learn so much.  I hear what makes them happy, what they are excited about, and what they have just learned.
For example, today if I hadn't stopped for those short few seconds I'd have missed out the unsolicited hug that was accompanied by an I love you. 
*******************************************************
It's back!!  5 Minute Friday in 2013.
1. Write for 5 minutes flat – no editing, no over thinking, no backtracking.
2. Link back here and invite others to join in.
3. And then absolutely, no ifs, ands or buts about it, you need to visit the person who linked up before you & encourage them in their comments. Seriously. That is, like, the rule. And the fun. And the heart of this community..
If you enjoyed this post, say thanks by sharing it!
I'm new to the one word idea.  I just heard about it when I read a post from a dear friend the other day.  I have,  however, been thinking about needing something different in my life for about two months.
After having an absolutely crazy and stressful 2012, I am ready for something different.
Have any of you ever been a waitress?  I have.  I actually loved it. It's the one job I had in college that I enjoyed.  There were many times when I had so many tables that I would try to condense the number of times I went to the kitchen.  I'd pile things on my tray for two or three tables.  Why not?  Less trips to the back means less waiting for the customer.  I've never dropped one.  Not once.   
In my life this year, instead of piling on more and more I am choosing to take things off my tray.  I'm going to learn to say no.  I'm going to stop taking on too much. 
A little background:
I've always tried to do what I can for other people, be there for others, and go the extra mile.  (If you have ever won ad space from me for this blog you know I always throw in an extra days.)  Why not?  I'm sure you are singing my praises right now because that is an awesome thing to do.  I'm here to tell you to stop singing.
It's true that it's a great thing to do.  I don't know if it's a woman thing, a mom thing, or a mixture of both.  I tend to do, do, do because I feel it's the right thing.  I want to be a blessing to others.  I truly do. 
Here is where it gets sticky.  Have you ever stayed at a job too long?  Helped out a friend for longer than you should have?  Taken on one too many things because you didn't want to say no? 
Me too.  So much so that in the end I no longer feel as if I'm being a blessing and more often than not I end up feeling taken advantage of.  More than once in my life I've felt in my heart that it was time to move on.  That little voice in my head telling me it's time, and me obviously ignoring it.  
Once at a job I stayed so long and dealt with so much junk that I was truly ready to just walk out of the office and never look back.  Thankfully, in that instance, I interviewed for a new department, got the job, and it was a complete 180. 
It will be different this year.  I will be different this year.   I won't stop being a blessing to others but I will listen to that little voice more often.  I will know when to say when.  
I can't do everything for everyone.  My family can't take a back seat.  My personal 'me' time can't be non-existent.  My devotionals can't be left for another day.   
It is the year of me this year.  Not in a selfish way, but in a I-need-to-be-a-better-me-wife-and-mom way.  I need to be well-balanced, in control, and steering my life instead of letting all of the 'stuff' steer me. 
Do you take on too much?  Give too much of yourself?  Join me and let's try to make life more balanced this year. 
So I raise my glass to balance.  Just what I need to remember this year! 
Cheers!!
If you enjoyed this post, say thanks by sharing it!