Archive for the 'Link-ups' Category
My favorite Christmas song is 'Where Are You Christmas' by Faith Hill. 
Of course I have probably 5 or 6 favorites but this season I'm choosing this one.  It's from the movie The Grinch.  If you haven't heard the little girl in the movie sing this song…you have to!  She's so cute I almost can't stand it. 
Here are the lyrics. 
Where are you Christmas
Why can't I find you
Why have you gone away
Where is the laughter
You used to bring me
Why can't I hear music play
My world is changing
I'm rearranging
Does that mean Christmas changes too
Where are you Christmas
Do you remember
The one you used to know
I'm not the same one
See what the time's done
Is that why you have let me go
Christmas is here
Everywhere, oh
Christmas is here
If you care, oh
If there is love in your heart and your mind
You will feel like Christmas all the time
I feel you Christmas
I know I've found you
You never fade away
The joy of Christmas
Stays here inside us
Fills each and every heart with love
Where are you Christmas
Fill your heart with love
Grab a super cute button and link up a post with your favorite Christmas song. 
.

// <![CDATA[
document.write('');
// ]]>

If you enjoyed this post, say thanks by sharing it!
Here is the schedule in case you missed it!
12/20   Christmas Tree:  picture-only post of tree & ornaments
12/21   Christmas Song: favorite holiday song and why
12/22   Christmas Creations: last minute Pinterest-inspired gifts
12/23   Christmas Future: new tradition to put into place next year
12/24   Christmas Eve: favorite traditions, routines, or plans
12/25   Christmas Meaning: what Christmas means to us
K for Kelly!!
A few ornaments of mine from high school.  My favorite Disney character.
  One of my favorite non-green ornaments.  A Smore!  
One of my lime green ornaments! 
 Each year we buy a special ornament for the kids.  This is one for the little one!
My favorite of the lime green ornaments!
 An ornament for the big one!
An ornament to remember our amazing Disney Christmas last year.
 Another lime green ornament!
Grab a super cute button and link up a post with pics of your Christmas Tree. 
.



If you enjoyed this post, say thanks by sharing it!
Feel free to link up any Into the Word Wednesday post you have.  A few of the ladies and I are sharing Christmas scripture and a few others are sharing their weekly ITWW post.
The one that reminds me of Christmas the most is Isaiah 9:6.
'For unto us a Child is born, unto us a Son is given: and the government shall be upon His shoulder: and His Name shall be called Wonderful, Counsellor, The Mighty God, The Everlasting Father, The Prince of Peace.'
All of this bestowed upon a baby.  He was destined for greatness!
Talk about a lot of titles.  Wow.  I thought we were amazing creatures.  You know, us, the mom thing.  We care for our little ones, multi-task, take care of the house, etc., etc., etc.
We pale in comparison to Him, don't we?  What a wonderful reminder of how amazing He is. 
As we celebrate this Christmas, I'm going to remember to celebrate Him and His amazingness.  We sometimes think we can do it all.  I am sure many of us do more than our fair share.
Let's take time to relax this holiday and celebrate.  Less stress.  Less distractions.  More family time.  More quality family time. 
If you enjoyed this post, say thanks by sharing it!
The post today will be short and sweet.
We are giving back. To you!
Enter to win below. Here's the catch. Well, there is no catch.  It's true that hosting a giveaway is a great way to increase numbers, earn followers, and boost hits.  This is not about any of that.
It's simple to enter, you can earn entries by just being here and viewing this post. You can also earn extra entries if you have linked up a post any time during this series.  There is no obligation, just extra entries as a thank you for being here.  We want you to be able to win something by simply being amazing. 
Be sure to check out the posts by Becky and Sarah too.  Sarah is talking about how to give back within your community.  Becky is tackling a tough one on how to give back to those recently hit by tragedy in Sandy Hook. 
We thank you for being followers and supporting us. 
a Rafflecopter giveaway

If you enjoyed this post, say thanks by sharing it!
It's been so great getting to know all of you through your linked up posts.  I continue to be amazed at the strength of the marriages I see as well as the transparency of your posts.
Just a note, there will be no Matrimonial Monday posts the next few weeks.  We will resume on January 7th.  Mark your calendars accordingly and if you haven't linked up yet please consider it.  If you don't blog, two weeks is enough time to start one!  (wink, wink)
************************************************************
This week I loved Ronda's post Happily Ever After.  She blogs over at Following Our Leader with a ton of amazing stuff on marriages and devotionals.
Her concise list of how she keeps her marriage strong is a list that would look great on a bookmark or in a planner.  Keeping it right in front of us as a reminder would be awesome.
**********************************************************
Have you planned all the details of your Christmas?  Have you purchased all of your gifts?  Figured out a way to pay for them?  Have you included your husband in on all this planning? 
I loved reading through Planning With Your Spouse by Lori over at Encourage Your Spouse.  So much in fact, I forgot that I was posting this and got lost over on her blog.  Amazing things happening over there.
Check out her thoughts on planning money, intimacy, and faith.  I'll be bookmarking this one to come back to for reference. 
**********************************************************
Another favorite this week was from Gaye over at Calm.Healthy.Sexy. 
She speaks briefly and openly about keeping sex alive in a marriage.  Perhaps you and your husband have grown apart.  Perhaps you work different shifts (we experience this periodically).  Perhaps you are just plain tired and not in the mood.
Her list of Quick Tips for a Sexier Christmas Season will help you figure out how to reignite the flame.  Anyone else love that she mentions sending him sexy texts? 
I'd love for you to head over there, find one item on the list you are willing to put into action. 
************************************************************
Grab a button and link up!
.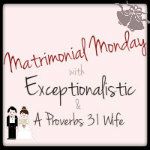 .
Grab this button if you were featured here today!
.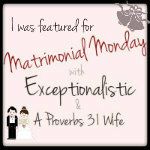 .
If you enjoyed this post, say thanks by sharing it!