Archive for the 'Matrimonial Monday' Category
Has there ever been a time when your husband's ego took a hit?  Perhaps he lost a job, was demoted, injured, or something else happened that caused him to feel less than. 
Early on in our marriage (three weeks after the wedding), my husband was laid off from his job.  It was tough.  He was mentally preparing to be the husband and provider. 
Of course he wasn't so much upset about being laid off.  Things happen.  However, being a new husband being forced to break this news to his new bride was disheartening.  The feelings of inadequacy tried to beat up on his ego. 
He was down in the dumps.  Feeling low.  He hated seeing me leave for work and started to feel inadequate. 
I didn't know what to do to help him get through this but I can tell you what I didn't do. 
I didn't get upset with him and freak out.  I didn't blame him.  I didn't assume he did something wrong which caused this.  Most important of all, I didn't treat him any differently.  
Had I done any of those things he could have completely shut down.  He wanted to step into our marriage as my hero, not as a provider that couldn't provide.  Rather than bottle up those feelings, he told me about it.  My image of him was what concerned him most.  He thought I'd be disappointed in him.  Of course I wasn't but in his mind, he thought it was possible. 
He wasn't sharing these thoughts at first.  He was keeping them to himself where they festered and continued to worsen.  Finally after about a week he let out what had been pent up inside.  I'm thankful it happened this quickly. 
Pent up feelings do more harm than good.  Keeping things bottled up (husband or wife) can lead to any number of issues.  Our mind can play tricks on us.  We can tell ourselves what we 'think' our spouse feels.  We can conjure up a scenario in our mind pretty quickly.  I'd bet that a majority of the time it's a worst case scenario. 
Last year when his company shut down, we didn't have to have this conversation.  He knew how I felt about him because I'd been showing him for well over a decade no matter what changed in our lives.  I didn't see him differently way back then and I surely wouldn't now.  He knew this because I'd shown him. 
Why do I say I'm happy this was resolved quickly?  It had to be.  One week after he was laid off, so was I.  I had to come home and tell him the same dreadful news.  I had to tell him that we were newly married and completely jobless.  During that drive home after being let go, I felt his pain.  I knew why he had been down in the dumps. 
We had a deep, deep discussion that day that completely changed the course of our marriage.  We both honestly believe if I hadn't been laid off so soon that he may have fallen into a depression.  I wouldn't have know how to make him feel better.  I wouldn't have known the battle that was going on in his mind if this hadn't happened.  He probably wouldn't have opened up like he did and who knows what road we'd be on right now. 
A husband's ego is fragile.  A wife's attitude can either build it up or tear it down.  <—– Tweet it
If you are in a situation like this please feel free to read this together.  It may open lines of communication between you and your spouse.  It may let each of you see the importance of being open and honest from the start.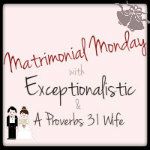 If you enjoyed this post, say thanks by sharing it!
It's fun to read through and see the posts that are linked up.
What is even more fun is getting to highlight a few in case you didn't get a chance to read through them all.
*****************
So technically Valentine's Day is over and done with but I loved what Erin at Mystery 32 had to say this week:
'You may have heard the excuse for not celebrating Valentine's day: "I don't need one day to make me be romantic. I can be romantic all year long." Really? Prove it. Whether this is an excuse of yours or not, I challenge you to step up in 2013 and make it the most romantic year possible.'
Seriously?  She is 100% right.  We should not just say this but we should do it.   Are you looking for romantic gestures for this year?  She gives you a list of 50!!
Hop over there, grab an idea, and bless your spouse today.
*****************
Are any of you going through some rough hiccups in your marriage right now? If you are, Loving When It Hurts is a must read for you.
Jamie has opened up and been transparent about betrayal in her marriage as well as the long road to rebuilding it!
Head over there and see what she is celebrating this week and perhaps leave her a congratulations in the comments. 
It is truly miraculous!
****************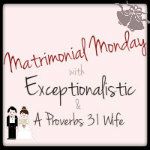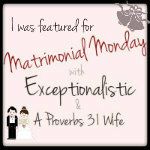 If you enjoyed this post, say thanks by sharing it!
I talked just a few weeks ago about making sure our husbands have time to spend with their friends.
When I say making sure, I don't mean forcing it if he doesn't want to or even scheduling it for him.  I mean not grumbling about it.  He shouldn't feel bad about spending some time with friends.
I strongly believe they shouldn't owe us something in return.
Let me ask you this.  Do you keep score in your marriage?
I've experienced a few conversations with women that expect this exact thing. 
Let's say your husband spends four hours at a baseball game with a friend.  Do you expect him to provide you with four hours of free time (outside the house, no kids)? 
I personally think this type of score keeping can lead to no good in a marriage. 
Let's say I tallied up the number of hours my husband spent with his friends in a month.  Then took a look at how much time I spend that month. I see that he has spent four hours at a ball game, 3 hours golfing with his dad, 8 hours at guys night, and on, and on. 
Then I see that my list consists of a few trips to the grocery store by myself.
I'd slowly start to resent that I'm not receiving as much me time.  I'd start grumbling each time he has new plans.  I could make it an argument each time there is something he wants to do. 
You might be asking 'who does this?' 
Keeping an actual written tally?  Probably no one. 
Keeping a mental tally?  I think a lot of people do this.  Husbands and wives. 
If your husband has a few more opportunities than you do in a month, consider it a seed.  It's a seed sown into your marriage.  It will come back to you.  It might not be now but in time your gracious and generous attitude will be rewarded. 
Next time, try to remember that your husband will come back renewed, relaxed, and less stressed.  This is good for all!  He'll be more attentive and appreciative.  He'll be more helpful with the kids. 
Most of all, he'll realize he has the most wonderful wife in the world! 
Now, show of hands…
Who doesn't want to be the world's most wonderful wife?!?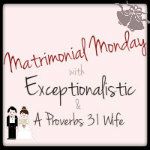 If you enjoyed this post, say thanks by sharing it!
It's my week to feature a few posts from last week's link up.
Ladies, can I just tell you how difficult it is sometimes to choose? 
You make it so hard to pick only a few to feature.  Keep up the good work and know that even if you weren't featured this week it doesn't mean that your post didn't touch us!
First, hop over to check out Judith's words of wisdom over at Wholehearted Home.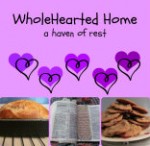 She is currently reading through The Love Dare which I adore!  So much so I think I'm going to work my way through this book again soon.  
One of my favorite parts of her post states:
If you learn to understand your husband better, don't you think it will help keep the disagreements away?? Understanding leads to favor. Wisdom.
Understanding is a life-long journey that draws you closer and closer to your husband.
Boy is she right!  It is a life-long journey.  We should treat it as such.  We should always seek to learn more.  The journey doesn't end with the wedding, it's just beginning!
After

Wholehearted Home, dart over to Second Chance to Dream and read through Barb's top ten post called Top Ten Reasons to Date your Spouse Frequently. 
In light of the upcoming holiday later this week, it's important for us to remember the why of dating our husbands. 
Leave her a comment letting her know your favorite.   Mine is number 9 without a doubt.  It's one of the main reasons I fell in love with my husband! 
Did you read a post last week (or any week) that touched you?  Drop me an email and let me know! 
**********************************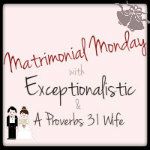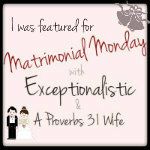 If you enjoyed this post, say thanks by sharing it!
It's a night I tease my husband about because it's funny to see him get so excited. 
Once a month his closest friends come to the house for a long, long night of video game playing and eating.  As they like to say, it's epic.   They get together around 3pm and stay up until after midnight.  They enjoy it so much that they make a weekend of it once a year. 
I love it because I can hear my husband laughing and relaxing.   He is getting a well deserved night of fun with friends. 
I personally love these nights and weekends.  Once the kids are in bed, I get to do all the things I don't usually get to do.  I can watch my favorite shows that are backlogged on the DVR.  I can organize our room, edit pictures, or just sit and read.
Now, don't get me wrong.  My husband and I love hanging out together. 
We love it so much that even on nights when we say that we'll do our own thing, we end up spending it together. 
I chose this topic because I think it's healthy to spend some time apart.  It doesn't have to be days.  It can be just a few hours. 
I'll be covering more on this topic in two weeks right here at Matrimonial Monday.  Be sure to check back!  
******************************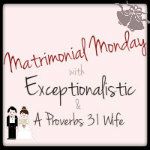 If you enjoyed this post, say thanks by sharing it!