I'm learning a little more each day that it's okay that I am not perfect.  Learning slowly.  Really slowly.

I'd venture to say I'm a perfectionist.  I tend to want things to go my way, the right way, and the most efficient way.  I am a planner.  I am so much of a planner that any kind of impromptu activity makes me a little uneasy. 
Immediately I start thinking about how to nix plans to make room for this new, uninvited activity.  I have learned to adapt and know that striving for perfection can certainly cause me to miss opportunities.  I am not so rigid that I always miss them.  I just freak out a little bit at first!

I talked about it back here but last year on vacation we spent almost 4 hours feeding the birds.  These birds…
As I look at my life and how busy it's been it's okay not to be this exact idea of what I think I must be.  That every plan doesn't have to go off without a hitch.  For instance, this post was supposed to be up yesterday.

It's okay. (Gasp!)

If you are a perfectionist like me, take the time to step back.  Take time to enjoy the birds like we did on vacation last year.  It was completely unplanned but ended up being a highlight of the trip.  Had we forced ourselves to ignore the opportunity and do what we had planned, we would have missed out on all of this.  
Ephesians 5: 15-16 leads us right into the way we are to live our lives abiding by the ten commandments.  The words in this verse are exactly what I needed to be reminded of this week. 
'Be very careful, then, how you live — not as unwise but as wise, making the most of every opportunity, because the days are evil.' 
Making the most of every opportunity might not be my way of doing things.  It could be that He is putting something in my path that I need to pay attention to.  Something that I need to see.  An opportunity to follow Him and what He desires of me. 
I knew without a doubt that I needed some family time last night after a very, very long day at work.  It was a longer shift than I'm normally scheduled and then I got out 45 minutes past my scheduled time to leave.  I had seen my husband and kids for 15 minutes in the morning and by the time I got home it was 30 minutes until bedtime. 
They needed me.  I could see it.  I could feel it.  More importantly, I needed it. 
For an instance I was worried about not having this post up right on time.  I was concerned with something that didn't matter as much as the hour of playtime with the kids (by letting them stay up late) followed by an impromptu in-home date night with my husband.  No offense to any of you but this was definitely something that our family needed last night.   
If I had powered through like usual checking items off my list, I would have missed out on some wonderful quality family time. 
I will definitely allow these opportunities interrupt my vision of perfection more often!
How about you? 
********************************************
–Join my co-hostesses and I this week for Into The Word Wednesday!
Becky at Tales of Beauty for Ashes
Sarah at Fontenot Four
Falen at Upward Not Inward
Kelly at Exceptionalistic (looks like you found me!)
Into the Word Wednesday blog hop rules (if you wouldn't mind!):
1. Link up about something you are learning this week.
2. Follow all hostesses via GFC or Google +.
3. Grab a button to put on your blog – the more the merrier! Check out our sweet new button…
.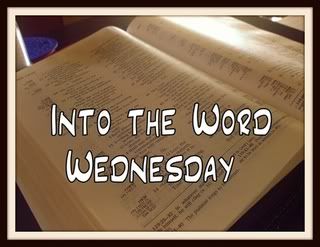 .
4. Check out (and comment) other people's blogs to bless them today!