There were quite a few words that could have been used to describe me for the letter C.  Christian, chaos, crafty, coffee, courageous and comfy were all words that came to mind. 
I chose Christmas because it's one of my favorite times of the year. First and foremost I love celebrating the birth of Jesus and sharing that with my kids. 
~I also love Christmas music.  Anything by Johnny Mathis, Bing Crosby or Trans-Siberian Orchestra would be on my play list.  I took my mom to the Trans-Siberian Orchestra concert one year as her gift.  One word…amazing!!  
~Christmas movies are also a favorite.  I sit down with Nick to watch a movie and more often than not (no matter the time of year) I'm asking to watch The Santa Clause.  It's definitely in the top three of Christmas movies.  It is wonderfully imaginative and makes me feel like a kid again.  
~I love to wrap gifts.  I officially start gift shopping in the late summer but all through the year I'm on the look out for great gifts.  I love giving gifts even more than I like getting them.  I love to find gifts for people that they'll love.  Perhaps things they wouldn't purchase for themselves. 
We love to spoil our parents because they have given us so much.  It's the look on their face, the joy they show when they open something they really appreciate.  It's those memories that we remember more than anything else.

I usually have everything wrapped before December 1st so I can put them under the tree as soon as it's up.  Let's face it, a decorated tree with no presents underneath is just sad!  I've actually been hired to wrap other people's presents.  
There is an entire closet in our house dedicated to Christmas wrapping paper, decorations and trees.  How many trees?  We have three that we put up each year, three full size trees. 
I'll also tell you a secret.  One of those trees isn't even mine.  I don't put it up, I don't decorate it and I don't put it away at the end of the season.  It's a tree which is filled to the brim with only Hallmark Star Wars ornaments. 
I'm pretty notorious for wrapping all gifts in different paper.  Yes, that's right.  I wrap each gift in different paper.  I haven't counted but I'm sure there are over 40 rolls of wrapping paper to choose from.  It's awesome to shop for wrapping paper right after the holidays. I add to my paper collection every year.  I love it!
~I also love to bake.  I love making cookies, pies, cakes, homemade twinkies (my grandmother's recipe) and anything else. I'm currently pinning a lot of new recipes to try this year. 
~I love creating memories.  My mom always made sure Christmas was special.  After we got married we still spent the night at my parents house on Christmas Eve.  We'd go to sleep with a few gifts under the tree and wake up to a huge pile of gifts. It felt like it did every Christmas.  I had grown up and gotten married yet my mom still surprised us every Christmas morning.  We did this for our first ten years of marriage until last year when my parents came to our house Christmas morning.

What is your favorite tradition of the holidays?

If you enjoyed this post, say thanks by sharing it!
My husband and I just completed the Insanity workout week 4.  Yes…this Insanity…
and I just can't get enough!! 
It's been a great quality time for me and my husband.  Working toward a goal together. Carving out time in an already hectic day to workout for an hour has been tough but we've made it work. 
I'm excited to have the second month to continue on.  The first 30 days weren't enough!!! 
Joining up this week for 5 Minute Friday.
So, set your timer, clear your head, for five minutes of free writing without worrying about getting it right.
1. Write for 5 minutes flat – no editing, no over thinking, no backtracking.
2. Link back here and invite others to join in.
3. And then absolutely, no ifs, ands or buts about it, you need to visit the person who linked up before you & encourage them in their comments. Seriously. That is, like, the rule. And the fun. And the heart of this community..
If you enjoyed this post, say thanks by sharing it!
I remember seeing several posts on Facebook a few months ago on the Child Training Bible. I thought it was amazing! I actually forgot about it until I started this blog. I saw review after review, giveaway after giveaway. I really wanted to be able to give one of these away. I was so excited when I got the opportunity when I asked them if I could review their product!!

I don't know if you are like me but I absolutely love shopping for anything school related. So when I saw that I needed post-it tabs and Sharpie highlighters I was thrilled!  
I actually headed out to buy a new bible because mine already has been highlighted in and is pretty used.  I found this one which is the NIV version but also has any scripture about God's love already highlighted.  I thought that would be an added bonus!
The instructions were very easy to follow.  I thought this was going to take much more time than it did.  I didn't do it all in one night. I wanted to take my time.  I will suggest not to try to put this together while doing anything else!  On the first few I started highlighting the wrong passage.  Definitely take your time with it.
I actually found this video on the Child Training Bible website which is so helpful.  You can see that Mindy and her husband have so much love put into this product they created.
I am thrilled to have a resource that helps me walk my child through learning about their emotions as well as other issues.  Have you had to teach your child about unforgiveness?  How about pride, jealousy and disobedience?  All of these topics and more are covered with the Child Training Bible chart set.
Not only are there 21 topics highlighted but there are also questions we can ask our children to open up discussion. While we are discussing we can talk about how Jesus handled each situation in the Bible.  The best part in my opinion are the prayers we can speak over our children.  Have you ever been ready to sit down with your child to discuss but the words didn't come?  We use recipes to remember ingredients and instruction manuals to help us build.  Now we have a tool to help us build a long-lasting relationship between our us, our children and Him.
I really feel strongly that this product is a must for any family that wants to train their child in the Lord.  I am excited to put it to great use with my children.   I hope to post more in the future about our use of this amazing product!
a Rafflecopter giveaway

If you enjoyed this post, say thanks by sharing it!
Sara over at The Hickman Five invited me to a talk on fear.   She knows my heart and how much I'm working on growing closer to Him.  What a great friend!
I'll start by saying that I wasn't originally going to go. I didn't really feel compelled to go. I've been following my spirit a lot more lately.  If I feel it then I do it.  I'm listening to Him as much as I can. In this instance I read the email from Sara but it didn't hit me in my spirit.  I kept her email and said I'd let her know.  One thing I know is just because I decided I wasn't going didn't mean that was the final say.
It was three days before the seminar.  I remember it like it was yesterday.  Some things occurred in my life which made me feel down.  I was bummed that all the hard work I'd been doing, putting my heart into was coming to an end.  I feel relationships have been strained and my stress level is through the roof.  Clearing out my email I came across the email from Sara.  I went to click delete.  I couldn't do it.
I continued on deleting old emails and filing some for later.  Again, there was the email with the subject 'Hi – July 14th – Fear' staring back at me.  I couldn't click to open it yet I couldn't delete it either.  I took it as a sign that I was meant to be there.
Bryn from Restoring Lives International shared her story. It was inspiring, emotional and real.  I'll not share her story but I'll share mine.
A few things she shared were astounding.  So near to me I almost felt ill.  Things I didn't even really realize were holding me in fear I started to recognize in what she was sharing.  She asked if we were stuck in a cycle.  A cycle of fear.
The answer was yes.  A hamster wheel of fear. I was on and I couldn't get off.  Fear of the past, fear of the future.  Fear of letting other people down.  Fear of not being a good enough wife, mom or friend.  Fear, fear, fear.  It was as if I finally realized what was holding me back in that very instant.  Something I'd been burying deep inside me from when I was five.  The root of my fear was there.

She said one thing that hit me like a ton of bricks.
~Jesus defeated fear on the cross~ 
It's so true!  He did.  We aren't meant to live in fear.  We are to cast all the fear away.  When we allow fear to stay in our lives we aren't trusting Him fully.  It's time to shut the door on fear.
I stayed to pray with one of her prayer warriors afterward.  It was amazing. She really got to the root of where my fear was coming from.  I let it go that day. It felt like a gust of wind came and took it away.  There was no wind but the feeling was swift and calm yet powerful.
Is there fear in your life? Embarrassment? Control? Anxiety? Nervousness?
All of these fancy words for fear can hold us back from accomplishing our dreams and living our best life.
Remember Jesus defeated fear on the cross. It has no place in our lives.
I'll leave you with some verses she shared with us.
Ephesians 2:14
Isaiah 26:3
2 Timothy 1:7
Job 4:12-16
Hebrews 11:1
–Join my co-hostesses and I this week for Into The Word Wednesday!
Becky at Tales of Beauty for Ashes
Sarah at Fontenot Four
Kelly at The Houtz House Party
Falen at Upward Not Inward
Kelly at Exceptionalistic (looks like you found me!)
Into the Word Wednesday blog hop rules (if you wouldn't mind!):
1. Link up about something you are learning this week.
2. Follow all hostesses via GFC or Google +.
3. Grab a button to put on your blog – the more the merrier! Check out our sweet new button…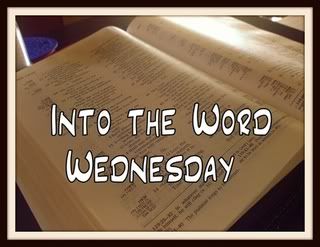 4. Check out (and comment) other people's blogs to bless them today!
If you enjoyed this post, say thanks by sharing it!