Posts Tagged 'date night'
If you've been in a relationship (married or not), you know that it isn't all fun and games.  It's hard work to love someone unconditionally.  As for getting married, the vows we make are a turning point in our relationship.  We are promising these things to each other in front of family, friends and God. 
It can be easy to forget these things in the midst of the chaos that is life.  The jobs, kids, chores, and bills can get in the way.  It takes a lot of creativity and compromise to stay together these days.  It seems like common practice to just quit rather than make it work.  
Walk away from the mundane for a minute and think about when you first fell in love with your spouse.  What do you remember?  How did you feel?  What were some of your favorite times? 
Kendra over at A Proverbs 31 Wife and I are teaming up to help you keep the fire burning!!  Join us for a marriage link-up once a week and share with us how you keep your marriage strong.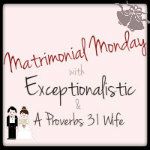 If you enjoyed this post, say thanks by sharing it!
Date night?  Anyone with kids remember what that is?!?
I love my husband and I love my kids.  We do however go through times that we need to reconnect.
It seems lately that if have the opportunity to go out minus kids we can't seem to think of a new place to go.  I blame mommy/daddy brain for the forgetfulness.  So we have a sitter.  What happens next?  Inevitably we head to the same restaurant we always go to or head to the movies.  What else is there to do in the Midwest?  There has to be more to life than the same old.
So we got smart. We began writing down new restaurants and new activities as we thought of them. Those things I read in our newspaper that I thought sounded really fun to try but I knew I'd never remember later.  The new restaurant hubby mentioned that would slip his mind when the next date night rolled around.  Thus, the date night jars were born!
I have three jars based solely on price.  In case it's a tighter week than most we can do something on the cheap.  If we are going out for an anniversary or birthday maybe something pricier.   Massages of course could be pricey or cheap…
I'm so excited to put these into play.  Rather than going to the same boring places it will be like it was in college! We'll be more adventurous in our activities, try new foods and therefore have more memories.
I'd love to share some pictures of your date night jars if you feel inclined to share them!  I'll also highlight your blog if you'd like.
Question of the day – what is your favorite date?
If you enjoyed this post, say thanks by sharing it!