Distractions are everywhere.  We all have them.
Television? Internet? Editing pictures? These are probably my biggest time wasters.
I love to sit down after the kids are in bed and watch a few shows with hubby. It's our relaxation time. I don't watch television during the day. I do let the kids have their small amount of cartoon time (educational of course!) but I personally don't watch it. I just don't have the time between working and caring for two little ones.
As for the internet since I started blogging I'm reading up on the best tips for bloggers, trying to network, making new friends which can suck up a TON of time. I also work from home so fasting from computer use wouldn't work for me. I'll just have to manage my time in a more productive way.
I might be the only one that wastes time editing photos. I love to take photos therefore I spend a lot of time editing them to make them just how I want them.  The pictures are fine on their own without the editing but it's something I love to do.  I aspire to be a professional photographer one day so maybe it's not a total time waste!
I'm teaming up with the 31 days to clean crew over at SarahMae.com.
What distractions cause you to be unproductive?
If you enjoyed this post, say thanks by sharing it!
Last night reminded me to take the time to listen.  If I had been too busy I would have missed one of the most amazing moments I've ever experienced.
We went to the nursing home to see my husband's grandma for her 89th birthday.  We brought home the balloons from the party.  We were late, the kids were tired and it was way past bedtime.
Trying to get the kids out of the car and up to bed an hour past bedtime is tough. We were tired and ready to relax.  The kids wanted to let the balloons fly up in the air.  We stopped and took 10 minutes to do this. It was SO worth it!!  The Big One said to me that he was sending these balloons to heaven for great nana.  My grandmother passed 2 years ago.  I still can't believe he remembers her!  Hearing him call up to heaven 'Jesus can you make sure that these balloons get to great nana' instantly made me tear up.  This morning he immediately asked if I thought she would have the balloons by now. Of course she has them and she loves them is what I told him.
If I had cut him off, not allowing him to tell me what he wanted to do I would have missed one of the sweetest moment I've experienced as a parent.
I found this on Spiritually Speaking.  It is perfect as a reminder to listen and take the time.
If you enjoyed this post, say thanks by sharing it!
Hmmm…where to begin.  It all began last week, four days ago to be exact.  It was a complete spur of the moment decision. During my blog travels to find some new blogger friends I stumbled onto a blog named Finding Hope. YES, YES, YES!!  I immediately connected with the author. We seemed to have a lot in common.  Would this truly be where I found my hope?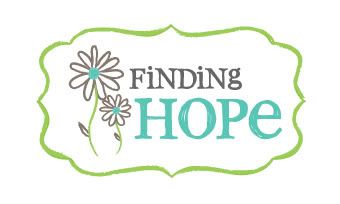 Things have been crazy here lately. Companies closing down, other companies on the downturn, my husband going back to school full time, wilder than normal kids and no time for really anything other than the day to day.  I felt as if I was drowning. It's up to me to keep this family running during this next year and I'm feeling more than overwhelmed (can we say triple overwhelmed?!) about what I need to do. I wanted to do something I wanted to do instead off always what I must do. Not necessarily in a selfish way but I needed some quiet time alone with Him. I've known for a while. This is my chance to rekindle.
The most current post on this blog was about an upcoming bible study about the Proverbs 31 woman through Good Morning Girls. A woman I so desperately would love to be but is it at all possible? I decided in all of about 15 seconds that I was going to do this. I email the author of the blog to join the group.  A three month, five day a week study about this 'perfect' woman.  Two to three verses per day – how hard can that be? I can surely find 5-10 minutes of quiet time to myself to study and meditate on these verses so I can be an integral part of this group.
I'm all set…printed my study guide, printed the e-book, joined the Facebook discussion group.  I am ready to go.

Day one. Monday May 14th. I struggled with finding my quiet time. I really wanted to get up early so I could grab an iced coffee and enjoy this quiet time. I set my alarm and of course the children that never get up early get up 10 minutes before my alarm is due to go off. Failure. Fast forward through the day. I find my 15 minutes at the very end of the day. 11:45pm. I'm wondering what I've gotten myself into. Was this a mistake? Was this not the right time? Everyone else in the group seems so put together. Great…now I'm intimidated but determined.
Day two. Same story. I'm now wondering if day three will pick up. I'll be sure to let you know!
If you enjoyed this post, say thanks by sharing it!
A gift to all my mommy friends!
I hope you have a fabulous Mother's Day. Remember to find time to yourself! I'd love to hear about your 'me' time!
~If you'd like copies of any photos without words please let me know. I took all these photos myself and am happy to share them.
If you enjoyed this post, say thanks by sharing it!
Have you ever colored just to color? Have you ever wished life were as simple as it seems in a movie or television show? I LOVE coloring with my kids. It's calming, relaxing and just plain fun! Here's a picture my boys wanted me to color because I'm a girl and Jessie is a girl. Such a cute reason. I had a lot of fun.
Take 10 minutes out for yourself today to and be sure to comment to let me know what you chose to do!


If you enjoyed this post, say thanks by sharing it!